I know it is Christmas time when a
Harry and David
package arrives on my doorstep. As a "picky" eater (I prefer knowledgeable, but, you might call me picky) I prefer not to eat foods with ingredients such as maltodextrin, dextrose, modified stuff, BHA, BHT, natural or artificial colors or flavors, or anything else I can't easily pronounce. So, I often give away half of my gift basket. When Harry and David improve their recipes, I will gladly indulge in their sugary sweets.
But, they do some stuff right! Like smoked salmon, Oregon cheeses, olive oil crackers, and their famous Oregon pears. Those simple ingredients made for a fast, deliciously Oregonian snack.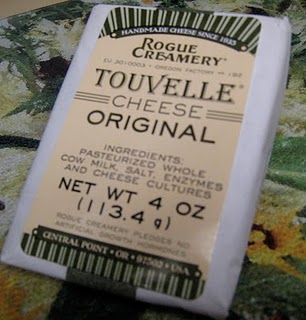 This is one of the only years since moving to Colorado that we will not be heading out to Oregon for the holidays, so it was fun to eat like an Oregonian for a night with wild caught smoked salmon, some
Tillamook
white cheddar cheese (which we had at home, as usual), some Touvelle cheese from the
Rogue Creamery
(which I had never tried but will now look for in
Whole Foods
), olive oil crackers, and Oregon pears. Harry and David included something new in our box this year- some lightly candied walnuts with an ingredient list I could have made at home. They were a fantastic addition to olive oil crackers and the two cheeses. Yum!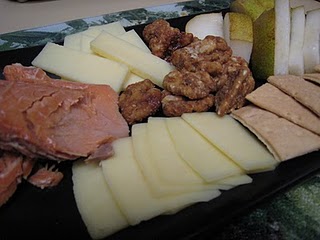 So, though I'd like to see some higher quality baked goods and pre-prepared foods come out of Harry and David, I understand that they are concerned more about shelf-life than a healthy-life. I get it. But, they would be such a cool company if they took out some of those junky ingredients and made things more small-batch, crafty-style. Just an idea… take it or leave it. Either way, I enjoyed what I ate.