I met Melissa Thomas on a progressive dining tour with Local Table Tours. We got to talking about cooking, food blogging, the gluten free trend and just how terrible some of the "healthy" gluten free pre-packaged foods taste. Melissa mentioned that she actually made a gluten free treat called The Almond Drop. She told me that her original intentions were not to create a gluten free product, but it just so happened to be delicious and naturally gluten free, so she found herself right in the middle of the gluten free industry. As she was incredibly friendly, a knowledgable foodie, and passionate about her craft, I told her I'd love to sample them and write a post to help spread the word.
I was expecting a small sample, perhaps one or two of each flavor, so I was really surprised when she gave me four whole packages: Walnut White Chocolate Dried Cherries, Cranberry Chocolate, Apricot Chocolate, and Simply Apricot (a vegan treat). I'm really glad she was generous with me because these things were my nightly dessert for a week or so.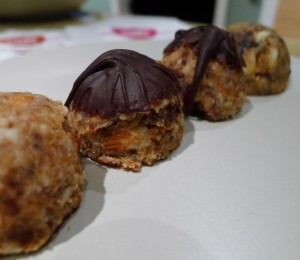 A combination of almonds, dates, almond butter, unsweetened coconut, and flax has never tasted so good. These little bite-sized balls are sweet enough (agave syrup) to satisfy my sweet tooth, yet wholesome enough to indulge in more than just one, as those calories (140 per ball) are mostly comprised of nuts and healthy fats. I loved each variety of Almond Drop almost equally, and found that having all four in one sitting made for a most satiating dessert.
You can purchase The Almond Drop here in Boulder at Whole Foods and Lucky's Market. Way to go, melT Foods! That's a well-deserved product placement.