I've told this story now so many times, I can't believe it took me a couple weeks to actually write it down.
I was in Portland for Portland Cocktail Week 2012 and had just spent three whole days socializing, eating, drinking, talking, attending all kinds of events, hanging out with others, and even sharing a room with someone. So, on my last day, when I had no plans with friends after class and my roomie had already hopped a flight back to Denver, I decided I was going to do what had needed to be done since arriving three days earlier- I was going to eat some fish and seafood.
Riffle was on my radar as THE place to go for freshly caught, perfectly prepared fish, so I put on my raincoat, hat, and gloves, got out my iMaps (or whatever Apple calls it), and walked from The Doug Fir to Riffle.
Best. Idea. Ever.
I walked in alone, all misted upon, and was seated at the chef's bar. I greeted the chef de cuisine with a smile and heard the words "Salmon tartare, VIP, Fire it up." I thought to myself, "Man, it would be so cool if I were the VIP…"
A couple minutes later I was presented a delectable salmon tartare.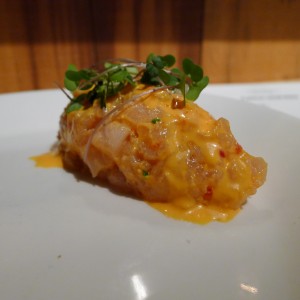 Meanwhile, I had ordered the Portland Cocktail Week cocktail (which I can't recall… ugh… so many cocktails).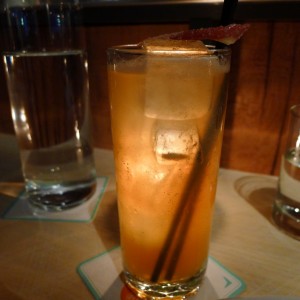 But, I had just had a cocktail photography class that morning (remember- I was at school all day for Portland Cocktail Week, friends), and in class we learned the importance of maximizing light, so I put my drink in front of a candle. I was also dining alone, so even though I had a Portand dining scene magazine, I needed something to do while waiting for my amazing meal.
Next, before I ordered any food, came a monkfish stew tasting. Wow. That's what I'll say. I loved it very much, but it was so rich, a tasting was perfect for me. It let me know what I'd be getting into, but gave me an out so I didn't have to regret the calories in the morning.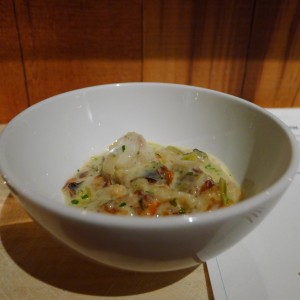 What I had ordered was a sole dish. I read about this dish in Portland Monthly's Best Restaurants 2012, and it's what inspired me to come to Riffle over most other places mentioned in the magazine. What I was presented was far more visually stimulating that I recall enjoying lately.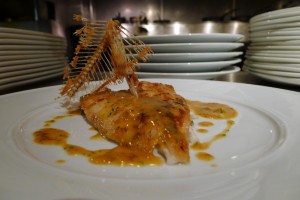 This fish is de-boned, but the bones are deep fried and, in this case, placed as sails of a ship, and ready to be snacked upon like any deep fried treat. Yes- I'm saying you eat the fried bones. It's genius.
Mind you, the whole time I'm loving my tartare, stew, and sole, I'm graced with the presence of the Chef de Cuisine, Joseph Cefalu, and the Sous Chef (who's name I don't know), so we were chatting about food tours, Denver, Boulder, Portland- all things food, really. The Sous Chef asked me about Black Cat Bistro, which was obviously pretty cool, as he had been to Boulder.
I ordered two veggie dishes with this sole because I had been, let's just say, consuming copious amounts of alcohol for a few days. I needed vitamins, and as someone who usually drinks vegetable Vitamix smoothies most days, all this eating out was getting unhealthy. I ordered some broccoli with Rogue Blue and squash with kale. Yes. Please. Thank you.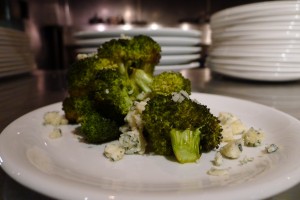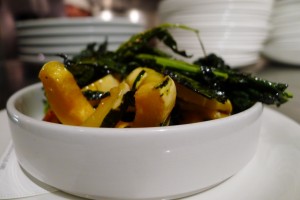 I must say, I was really disappointed I couldn't find room to finish all of these plates. Despite my efforts, I failed and couldn't even consider dessert. As I was realizing my fullness, I found myself talking to the owner, Ken Norris. He came by the chef's bar to make sure his guys were doing their jobs entertaining me, or feeding me… or something like that. Ken was a really nice man and I told him how coming into his restaurant was the best decision I had made in a long time.
I left that evening, after one of the most unrivaled meals I'd ever had in Portland, and met Randall Layman of Ace.Eat.Serve. in Denver for a beer in a dive bar. I was over the moon with my dining experience and he told me that the most important guest in a restaurant is the one who's there alone. They're there dining with the restaurant, not with someone else.
So, thank you, Riffle, for a lovely meal. It was my pleasure dining with you and I look forward to dining with you again.