I've been averse to plastic in my kitchen for a long time now and as a result haven't bought plastic wrap in years. Living in a dry, high altitude town means your beautiful freshly baked baguettes will turn into crackers without being stored in plastic, so I've kept plastic bags in the kitchen for those moments when I can't finish a loaf in a day. But, I came across a unique solution a few months ago on Food 52- Bee's Wrap.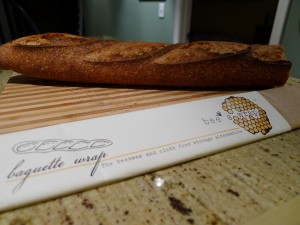 Bee's Wrap is made with organic cotton covered in beeswax, jojoba oil, and tree resin. The warmth of your hands molds it to your baguette (or cheese, bowl, sandwich), and then it stiffens when it cools and maintains its shape.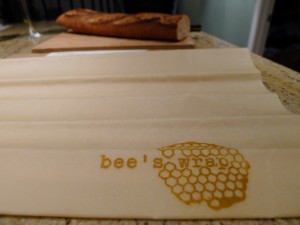 You can wash it in cool water with mild dish detergent, let it air dry, and it lasts approximately one year. I haven't had mine for a year yet, so I can't testify to what starts to happen that you'd realize it was time to buy a new one. I also have only used mine for bread thus far.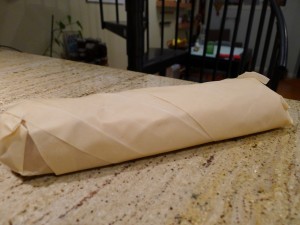 I love the opportunity to not just keep plastic from my foods, but keep it out of landfills, and hopefully be part of a growing number of consumers voting with their dollars against our non-stop creation of thousands upon thousands of miles of plastic wrap each year.
If you live here in the Boulder area, you can pick up some Bee's Wrap at Cured. Otherwise, check out their interesting website and at least consider it. If it's not for you, then for your super environmentally-friendly friend.