Banana Chocolate Chip Coconut Walnut Muffins
Could it get any better than banana chocolate chip coconut walnut bread? Or, in this case, muffins? I made muffins because they bake so much more quickly than a loaf, and in the summer heat, that makes a big difference. Muffins are also more manageable… you can easily count how many you've eaten. That might not be a good thing, but this recipe is.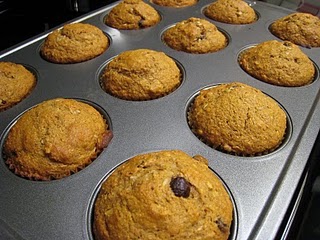 Ingredients:
1/2 cup heavy whipping cream
1/2 cup honey
1 egg
1 tsp vanilla extract
2 very ripe bananas, mashed
1/2 cup whole wheat pastry flour
1/2 cup whole wheat flour
1/2 cup unbleached all purpose flour
a pinch of sea salt
1 tsp baking soda (a little less if at altitude)
1 TB cinnamon
1/2 cup toasted and coarsely chopped walnuts
1/2 cup unsweetened shredded coconut
1/2 cup chocolate chips
Preheat the oven to 350 (375 if at altitude).
As with all of my baking recipes lately, start by whipping the cream into butter. Pour the cream into your KitchenAid stand mixer and whip on speed 10 with the wire whisk attachment for 3 minutes. Then scrape down the bowl, switch to the paddle blade, and add the honey. Cream that, add the egg and vanilla, mix well, add the banana, and mix again. Easy.
Combine the dry ingredients in a bowl (except for the nuts, coconut, and chocolate). With the mixer on a slow speed, add the dry ingredients and mix until combined. Finally, mix in the nuts, coconut, and chocolate chips.
I poured mine into muffin pans lined with
If You Care
baking cups. I like this brand because they are more environmentally friendly than your average baking cups.
My delicious muffins were done in about 20 minutes. But, make sure to check them by sticking them with a skewer or knife to be sure they're baked all the way through. Cool on a wire rack and try to enjoy in moderation.