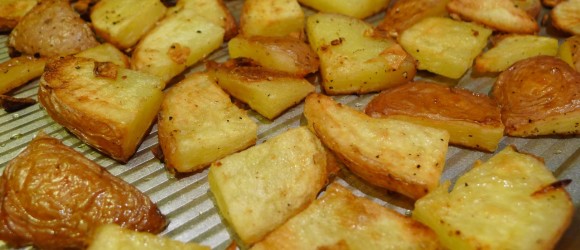 There's a technique that creates a perfect potato (in my opinion) which, upon trying it, has changed the way I cook potatoes at home. It doesn't matter if it's a red potato, Yukon gold, sweet potato, yam… just start with a potato, follow my steps, and see how it turns out. I'll replicate this in future posts with different potatoes, but for this posting I had local Colorado red potatoes on hand.
First, par-boil them in salted water until a knife can pierce them without force.
Then, take them out of the water and let them sit until they're cool enough to touch. Meanwhile, preheat the oven to 425 degrees.
When a potato is par-boiled, it's not quite cooked evenly through, and you can see the difference in doneness when it's sliced in half.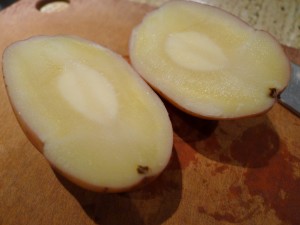 For this particular evening, I sliced the almost fist-sized potatoes in half, sliced the halves, and then cut them again in half to 2-inch long pieces. You could slice them into any length or width you want, but your oven roasting time might then vary.
I tossed the potatoes with garlic, olive oil, salt, and pepper, and spread them on a baking sheet.
After 10-15 minutes in the oven they'll be sizzling, or as I like to say, "talking to you," at which point it's OK to check to see how brown they are on the underside. When they're looking crispy, I flip them, repeat the process, and voila- a perfect potato.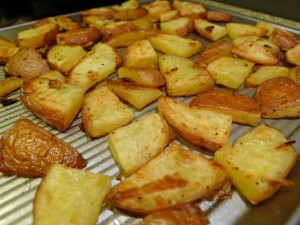 They have the crust of something fried with the creamy interior of a french fry done correctly, yet are tossed in just a few tablespoons of olive oil. They're not just a guilty pleasure of mine, but something I'm really proud of figuring out while chef's out working and I'm preparing dinner.