Our first night in Chicago was the only night we had dinner reservations. In the weeks before our trip, all of the menus we looked at looked good, but it was clear vegetarian fare was an afterthought of almost every chef in town. I insisted that we dine somewhere Sean could order more than one or two things off of the menu, and he suggested Green Zebra, a restaurant he has a fond memory of visiting in the past with his sister.
Green Zebra is a vegetarian fine dining establishment that's been open since 2004 and the chef/owner Shawn McClain won a James Beard award in 2006 for Best Chef Midwest. There's a very calm, clean feel to the place, and we enjoyed a really nice, relaxing dinner.
We started with some drinks, of course. I ordered a Michigan cider, he ordered a glass of bubbly, and then a pint… par for the course.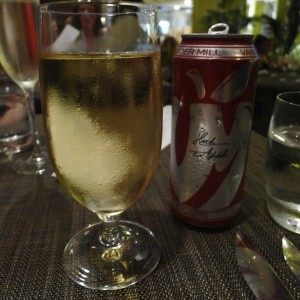 I'm a huge fan of quality cider, and would LOVE to see even more of it on menus everywhere.  When done well, cider isn't a sickly sweet slightly carbonated beverage. It can be a lower alcohol effervescent refreshing experience. Vander Mill Cider, on the menu at Green Zebra, is a nice, sessionable cider.
Our first dish was a Grilled Werp Farm Gem Salad with breakfast radishes, green almonds, and an onion vinaigrette.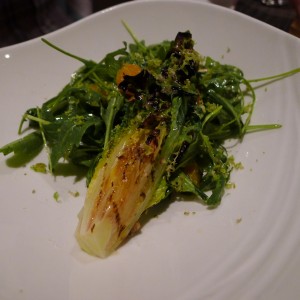 It was delicious. But, we had one tiny little fourth of a head of gem lettuce on our plate, served over arugula, which essentially represented 75% of the greens on the plate. Disappointing at the time, it became a topic of conversation over our similarly priced, yet 100% true to its name, gem salad the following afternoon at The Publican.
Next in line came Hen of the Woods Mushroom Pâté served with rhubarb compote, bread and butter fennel pickles, and bread.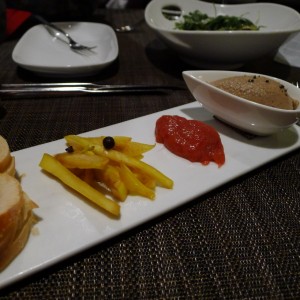 I'm not a fan of pate, so I wasn't really interested in ordering this, but it turned out quite pleasing. He, on the other hand, really really liked this dish, so I feel comfortable saying this was a successful appetizer.
We decided to order a bottle of wine while enjoying the first two dishes. Then ordered the Burratta all Panna which was one of my favorite cheeses over freekeh tabbouleh, preserved lemon, Calabrian chilies, and grilled frisée. This was very nice.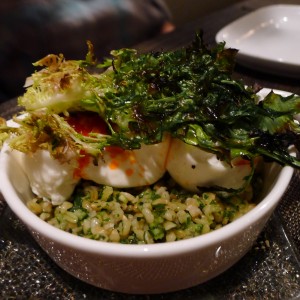 Our fourth dish was a taste of Black Bean Potstickers with orange suprême and shoestring carrots in a peanut-tamarind sauce.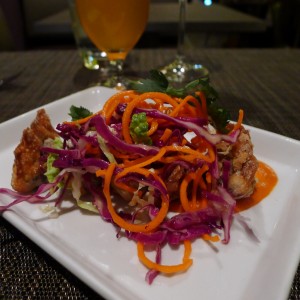 This was a good dish we enjoyed and almost didn't want it to disappear from our table. I could have popped those little potstickers in my mouth all night.
Next came Creamy White Corn Polenta with garlic scapes, roasted cippolini onions, and kohlrabi salsa verde.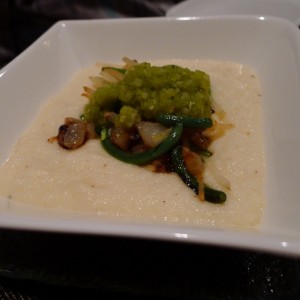 All I can say is: dangerously good. There was a substantial amount of cream or cheese or both in this polenta to make it so amazingly delectable. I had to leave some of it in the dish just to cut the guilt of so much travel-eating going on this weekend.
Our last "dinner" plate was the Culver Farm Duck Egg with smoked potato purée, parsley, and sourdough bread.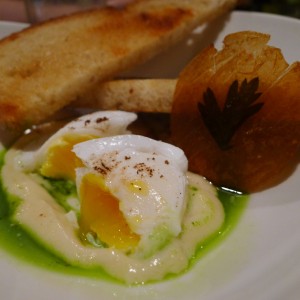 I must admit, I was disappointed with this dish. We both expected the duck egg to be a bit more runny, especially since the menu was clearly highlighting a local duck egg. The flavors were good and the parsley leaf pressed into paper-thin potato slices was a nice artistic touch, but for $12.50, I do expect the local duck egg to be treated like the royalty it is.
Our last dish was not just a disappointment- it was so memorable of a food experience I think we'll refer to it for a while now. We ordered a cheese plate, which we almost always prefer to a sweet dessert. Our server was unsure which cheeses were on the plate, so she stumbled a bit before checking with the chef. When she returned with news of a goat, a cow, and an aged cheese, we said, yes, please.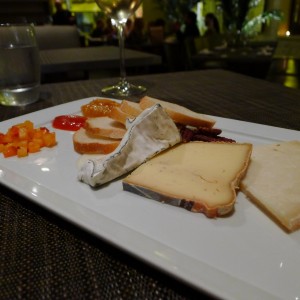 The cheese platter was well presented, and the jams/chutney paired very well. But, our aged cheese was running like a river overflowing its banks out of the center. It was either too old, or too warm, both of which were disappointing for a place that should be on point from start to finish.
Overall, we had a pretty good dinner at Green Zebra. I'm glad to see a vegetarian restaurant in business so many years. It was full of guests when we were there, and I met a couple ladies in the restroom who weren't vegetarians but were having a great time. So, they're doing something right.
Green Zebra
1460 West Chicago Ave
312-243-7100