Zucchini is in season, which means we're getting zucchini as part of our CSA vegetables. What's one to do with so much zucchini? I made some savory muffins.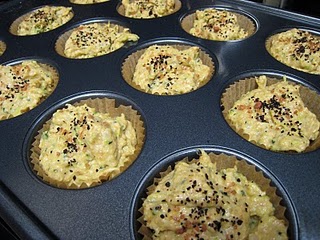 2 cups finely grated zucchini
3/4 cup feta cheese
1/4 small red onion, finely chopped and sauteed in a little butter for a few minutes to soften
1/8 cup heavy whipping cream
1/4 cup walnut oil
1/4 cup honey
2 eggs
1 cup yellow cornmeal
1 cup spelt flour
1/2 cup whole wheat flour
1/2 cup whole wheat pastry flour
1 TB dried minced white onion (from Savory Spice Shop)
1 TB dehydrated garlic (also found at my favorite spice shop)
1 tsp baking soda
1/4 tsp baking powder
sea salt (I used Red Algae Hawaiian Kai Sea Salt from Savory Spice Shop)
Urfa Pepper (again, from Savory Spice Shop)
Preheat the oven to 350.
First, shred or grate the zucchini and wring out most of the extra liquid with either a clean dish cloth, cheesecloth, or fine metal sieve. Next, chop the onion and saute it a little until it softens.
Assemble all of the dry ingredient, except for the sea salt and pepper, and set aside.
In your stand mixer, pour the 1/8 cup of heavy cream, and with the wire whisk attachment on the highest speed, turn it into butter. Then switch to the paddle blade, add the walnut oil and honey, and mix well. Add the eggs next and beat well. Then add the feta cheese and sauteed onion. mix this well before adding the dry ingredients.
Pour the batter into a muffin pan and sprinkle the tops with sea salt and pepper. If you are not using the same sea salt and pepper that I used, substitute with a coarse sea salt and red pepper flakes. Bake for 20-30 minutes until a toothpick comes out clean.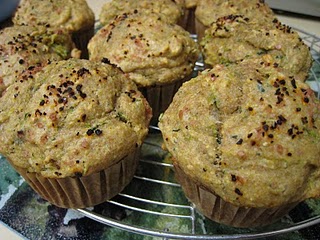 Enjoy.
Could it get any better than banana chocolate chip coconut walnut bread? Or, in this case, muffins? I made muffins because they bake so much more quickly than a loaf, and in the summer heat, that makes a big difference. Muffins are also more manageable… you can easily count how many you've eaten. That might not be a good thing, but this recipe is.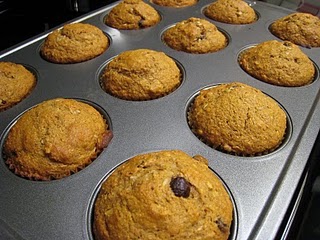 Ingredients:
1/2 cup heavy whipping cream
1/2 cup honey
1 egg
1 tsp vanilla extract
2 very ripe bananas, mashed
1/2 cup whole wheat pastry flour
1/2 cup whole wheat flour
1/2 cup unbleached all purpose flour
a pinch of sea salt
1 tsp baking soda (a little less if at altitude)
1 TB cinnamon
1/2 cup toasted and coarsely chopped walnuts
1/2 cup unsweetened shredded coconut
1/2 cup chocolate chips
Preheat the oven to 350 (375 if at altitude).
As with all of my baking recipes lately, start by whipping the cream into butter. Pour the cream into your KitchenAid stand mixer and whip on speed 10 with the wire whisk attachment for 3 minutes. Then scrape down the bowl, switch to the paddle blade, and add the honey. Cream that, add the egg and vanilla, mix well, add the banana, and mix again. Easy.
Combine the dry ingredients in a bowl (except for the nuts, coconut, and chocolate). With the mixer on a slow speed, add the dry ingredients and mix until combined. Finally, mix in the nuts, coconut, and chocolate chips.
I poured mine into muffin pans lined with
If You Care
baking cups. I like this brand because they are more environmentally friendly than your average baking cups.
My delicious muffins were done in about 20 minutes. But, make sure to check them by sticking them with a skewer or knife to be sure they're baked all the way through. Cool on a wire rack and try to enjoy in moderation.
I was really glad to stumble upon this recipe posted on
The Bad Girl's Kitchen
for this month's
Taste & Create
because I had some of these famous Aussie Bites a couple years ago. I liked them so much that I wrote down the ingredients from the package and that little piece of paper has been in my kitchen drawer ever since.
So, I took out that paper, compared it to the recipe posted, and adapted it a little according to what I had in stock. I think they turned out nicely.
Here is my ingredient list:
1 cup whole oats (I toasted mine for 10-15 minutes on a baking sheet while preheating the oven)
1 cup oat bran
1 cup whole wheat flour
1 cup unbleached white flour
1 cup grated coconut (unsweetened)
1/3 cup sunflower kernels
1/3 cup dried cranberries, coarsely chopped
1/3 cup dried apricots (I had some California apricots) coarsely chopped
1/4 cup raisins, coarsely chopped
12 TB ground flax seeds
1/2 cup evaporated cane juice
1 TB cinnamon
1 cup heavy whipping cream
1/2 cup honey
3 eggs, beaten
1 cup warm water
1 tsp baking soda (I live at high altitude, so I used 3/4 tsp baking soda)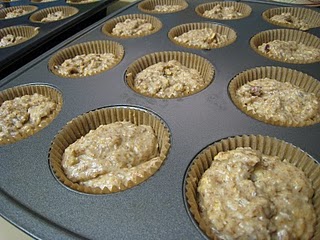 Combine all of the dry ingredients in a bowl except the baking soda.
In a large measuring cup, measure 1 cup of cream, add the honey, and slowly mix with a wire whisk until well combined. Then add the eggs and mix until combined. In a separate measuring cup, combine the warm water and baking soda. Let this cool a few minutes before adding it to the cream, honey, and egg mixture. Mix well, add to the dry ingredients, and pour into muffin pans.
I don't have mini-muffin pans…yet… so I used regular muffin pans and lined them with unbleached baking cups from
If You Care
. My Aussie Bites took 20 minutes to bake.
They came out delicious, and I will play with this recipe in the future to make a few variations.