I'm in Portland, OR for Portland Cocktail Week. All I have is my iPad, so posting is possible, but not ideal, and I can't link to things, so I will go back and edit later. I will be sure to write a recap when this work-vacation is over. But, my first night was a blast! Of course it was… I was with Sammy Dunn, my friend going on 10 years now. A man who knows about the Portland food scene and likes to have fun. What else could I ask for in life?
Sam picked me up at the airport and we went straight to Biwa for a fantastic dinner. Kimchi, pickled mackerel, a fried sardine, burdock and carrot salad, fermented soy beans that have a raw quail egg to make them gooey, fried rice balls, some other pickled stuff, and a couple ginger gimlets. Now, here's what my receipt says we ate:
Yoyogi, Saba Nanbanzuke, Yakionigiri, Kimchi, Natto, Kinpira, Sardine, and Ginger Gimlet.
Yeah. I have a lot to learn about this fusion cuisine and if we had a place like Biwa in Boulder, I could study more.
From Biwa we walked to Cascade Brewing and tasted some sour ales- Barrel #1 Platinum Blond, Apricot, Sang Royal, and Kriek. Oh, for the love of sour style beers.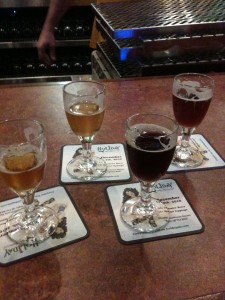 Then we finished the night the way old friends should- with a bottle of what appeared to be an 04 vintage of Pinot Noir from The Adea Wine Company of Willamette Valley. I say "appears" because the label is missing and there's some hand written words on the bottle that indicate 04 Pinot Noir. Some secret stash? Quite possibly.
Off to explore food, coffee, and cocktails today. Definitely can't complain.