As the website says, The Burger Stand at the Taos Ale House is a brewpub with a diverse selection of small batch handcrafted beer and eclectic and delicious burgers. It's a great place for burgers and beer in a town that pretty much closes up shop at 5 or 6 pm. There are few places in Taos that are, in the opinion of A Bolder Table, worth frequenting, and the Ale House is one of them.
We ordered a couple pints of locally brewed New Mexican beers, and then went to the burger Stand counter to order burgers off of a nicely varied menu. There's something for everyone here.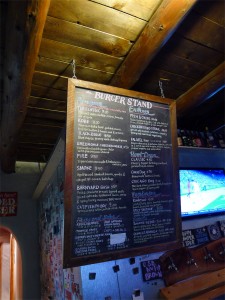 While we waited, we perused the extensive condiment selection. They have at least a dozen sauces and accouterments to add to your burger, which got us pretty excited for our meal.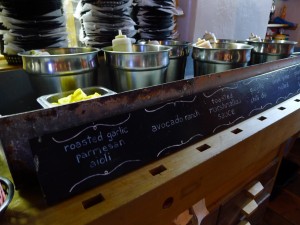 We had to try the green chili and cheese fries, and honestly, it's the only thing we had that was disappointing. The green chili was good, but the fries were obviously pre-made and packaged, not hand cut as I had anticipated, and the cheese sauce tasted processed. So, those are my gripes. Moving on…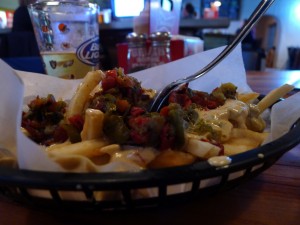 The Quinoa and Arugula salad was good and the dressing on the side as well.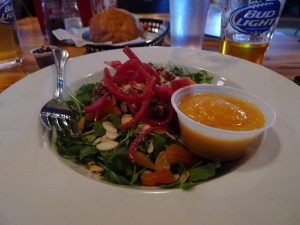 My burger was great. Sean ordered one of their veggie burger options, but I neglected to get a photo. It's always nice when places make veggie burgers in house, and The Burger Stand goes above and beyond by making two completely different veggie patties. I went with a turkey burger version of the Fire Burger, topped with avocado and habañero cactus jam. It was delicious, especially after a full day crushing the steep slopes at Taos Ski Valley.
We really liked this place, and went back the next night for a beer before heading out to dine at The Love Apple.