By

megan

In

carrot, curry, Farm to Table, favorites, garlic, local foods, noodles, Recipes, Savory Spice Shop, tofu, tomatoes
0
If I'm going to enjoy tofu, it HAS to have been frozen, thawed, and pressed before being seasoned and cooked. Freezing tofu changes the texture into something I almost find enjoyable, so there's always a block sitting in our freezer. This cold soba noodle salad with tofu, locally grown carrots, peppers, and tomatoes, and fried garlic is well worth repeating.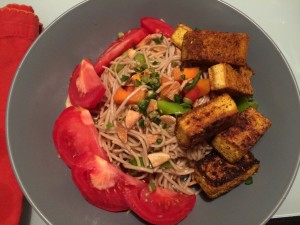 Here's how I made it.
First, the thawed tofu needs to be pressed to expel excess liquid. I usually wrap it in a few layers of paper towels and gently squeeze it, being careful not to squeeze too hard and tear the block. Then it's ready to be cut into bite-sized pieces and marinated. I chose a dry rub since it was going to be fried. Wet marinades make for quite a mess when it hits hot oil. Lesson learned!
The tofu was generously seasoned with Vietnamese Sweet Lemon Curry from Savory Spice Shop and then pan fried in peanut oil until crispy on all sides. The secret to getting a nice crust on each side is having a hot pan, hot oil, and not checking the food to see if it's cooked, but waiting until it's fully seared before flipping it. The chef-husband had to lecture me a few times on this before I listened, and what a difference it makes! Gone (hopefully) are the days of tofu sticking to the pan and breaking apart when it's flipped, leaving smaller pieces to burn and stripping the tofu of it's coating (read: flavor). After each side gets a crust, just remove them and let them cool.
Next, a chopped carrot and green pepper from the Boulder Farmer's Market went into the peanut oil pan to heat them ever so slightly. I boiled soba noodles according to the instructions on the package and then rinsed them in cold water to keep them from cooking, fried some garlic until crispy, chopped a jalapeño, and sliced a tomato.
I tossed the cold noodles with sesame seeds and the carrot and pepper pieces, and then drizzled some toasted sesame seed oil, fresh squeezed lemon, soy sauce (I prefer the unpasteurized Nama Shoyu brand), and a little local honey. Finally, I added diced jalapeño and crispy fried garlic for an extra crunch and kick.