After a hot, sunny, Texas-summer-time bike ride on b-cycles, we gave up our quest for the BBQ joint we planned on visiting and ducked into the nearest restaurant we saw: Hillside Farmacy.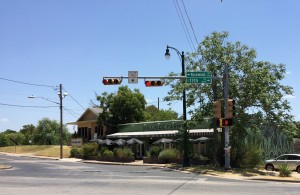 The Hillside Farmacy is a New American restaurant and specialty grocer housed in the old Hillside Drugstore building, and has been beautifully restored using the original pharmacy cabinetry. Walking inside feels like taking a step back in time, and can taste like that, too. The beverage menu features homemade fountain sodas, such as a traditional Brooklyn Egg Cream as well as punch, which you can order by the glass (1 cup) or bowl (20 cups). We opted for a couple glasses of this refreshing concoction of gin, bubbles, hibiscus syrup, and grapefruit juice.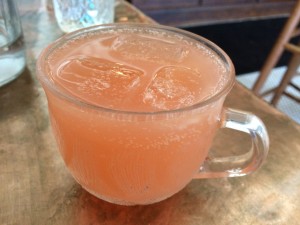 A salad and sandwich sounded perfect to me, so I went for "the beets" with fennel, chévre vinaigrette, red onion, arugula, and radish.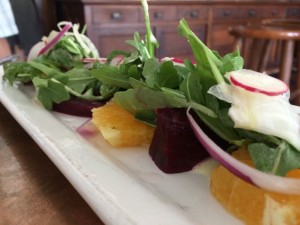 Familiar flavors I've had many times, yet always one of my favorites. For my sandwich, I tries something a little more unique- the "Thank You."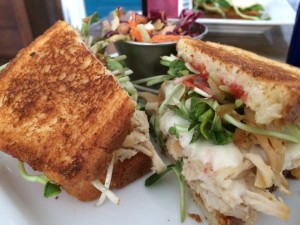 Roasted chicken, mozzarella, strawberry jam, sprouts, and aioli. I have one word: YUM.
Hillside Farmacy works with a number of local Austin farms, and sells a nice selection of hand crafted food items such as hot sauces, jams, and Texas rice. This sophisticated yet unpretentious eatery was a pleasant surprise.