Garlic Scapes? What the hell are they? Spell check doesn't even recognize the word!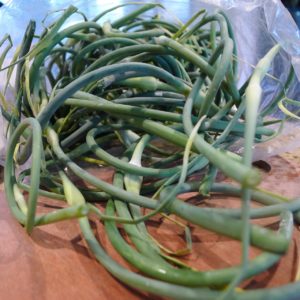 Well, I'd like to simplify it, and my farmer friends, please give me a pass on some of the botanical elements. A "scape" is the part of a garlic bulb that pushes through the dirt and then grows a stalk. These stalks will eventually flower so that said underground bulb can produce enough energy for the plant to reproduce via it's flowers. Sounds lovely, right?
Well unfortunately for us foodies, that's a load of shite. With garlic, as well as host of other veggies, as soon as the plant starts to "bolt" (the process of flowering above ground), the plant shifts energy from the bulb to the top of the plant in hopes it will sow it's seeds. That transfer reduces the flavor in the bulb, but, isn't that the thing we care most about! So in early summer garlic farmers walk down their fields and trim off the scapes, trapping all the plants energy in the bulb. What does that mean? Concentrating "Flavor Country" bitches!
So where does that leave the unwanted bi-product of the growing process? Garlic scapes have a flavor that of course is "garlicky," albeit in a very toned-down way. Because they see some sun, they can also come across as what a "scallion" is to a whole onion, greener and a little more feisty. Damn you youth! (shaking fist rigorously)  The next time you see these curly, wiggly lookin' green stalks at your farmer's market or grocer, buy some. The following awesome recipes are a great way to showcase the flavors that this once cast-off has to offer.
GRILLED GARLIC SCAPE PESTO
3/4# Garlic Scapes, grilled & roughly chopped
3/4 C Walnuts, toasted
1 C Parmasean, grated
1 C Basil
1 C Olive Oil
Juice of small lemon
Salt
DIRECTIONS:
Combine scapes, walnuts & a 1/4 C of the oil in food processor, puree to a paste, scrapping down sides as needed. Add in basil and pulse until roughly chopped. With machine running slowly add in remaining EVOO. Once fully combined add in cheese and pulse to incorporate. Season with lemon juice & salt to taste.
PICKLED GARLIC SCAPES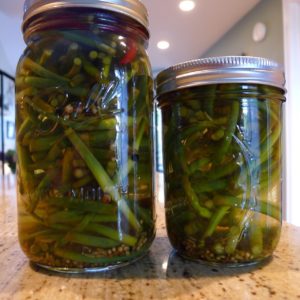 1/2# Garlic Scapes, cleaned & cut into 2" pieces
7 Dried Thai Chilies (or Dried Chili De Arbol)
4 Bay Leaves
2 t Fennel Seed
1 t Whole Peppercorn
1 t Whole Coriander
1/2 t Whole Mustard Seed
1/2 C Sugar
3 T Salt
2 C Water
2 C Distilled White Wine Vinegar
Combine all ingredients except scapes in a pot and bring to boil, reduce to simmer until sugar & salt is dissolved. Meanwhile portion cut scapes between a quart and a pint jar. While pickling liquid is hot, pour over scapes, taking care to make sure the aromatics are split between both jars. Seal while hot.
Any questions or comments please feel to reach out to me. Unless that includes hate mail, then please contact my wife.
Cheers,
Chef Sean