I'm in Portland, OR for Portland Cocktail Week. All I have is my iPad, so posting is possible, but not ideal, and I can't link to things, so I will go back and edit later. I will be sure to write a recap when this work-vacation is over. But, my first night was a blast! Of course it was… I was with Sammy Dunn, my friend going on 10 years now. A man who knows about the Portland food scene and likes to have fun. What else could I ask for in life?
Sam picked me up at the airport and we went straight to Biwa for a fantastic dinner. Kimchi, pickled mackerel, a fried sardine, burdock and carrot salad, fermented soy beans that have a raw quail egg to make them gooey, fried rice balls, some other pickled stuff, and a couple ginger gimlets. Now, here's what my receipt says we ate:
Yoyogi, Saba Nanbanzuke, Yakionigiri, Kimchi, Natto, Kinpira, Sardine, and Ginger Gimlet.
Yeah. I have a lot to learn about this fusion cuisine and if we had a place like Biwa in Boulder, I could study more.
From Biwa we walked to Cascade Brewing and tasted some sour ales- Barrel #1 Platinum Blond, Apricot, Sang Royal, and Kriek. Oh, for the love of sour style beers.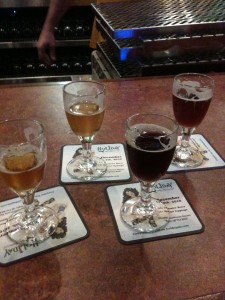 Then we finished the night the way old friends should- with a bottle of what appeared to be an 04 vintage of Pinot Noir from The Adea Wine Company of Willamette Valley. I say "appears" because the label is missing and there's some hand written words on the bottle that indicate 04 Pinot Noir. Some secret stash? Quite possibly.
Off to explore food, coffee, and cocktails today. Definitely can't complain.
Our CSA from
Ollin Farms
had 2 large heads of napa cabbage. I had never bought napa cabbage. Never cooked with it. Never did anything with it, ever. So, I had no idea what to do with 2 large heads of napa cabbage.
I googled it… turns out napa cabbage, also known as Chinese cabbage, is often used for Kimchi. Since my sister-in-law (or common-in-law if that exists?) lives in Korea, I happen to know what Kimchi is. It is a staple in Korean diets, made of fermented Chinese cabbage.
I recently bought a book titled
The Joy of Pickling
, and I followed its Kimchi recipe, which reads as follows:
3 TB plus 1 tsp pickling salt
6 cups water
1 large head napa cabbage, cored and cut into 2-inch squares
6 scallions, slivered lengthwise and cut into 2 inch slivers
1.5 TB minced fresh ginger
1.5 TB minced garlic
2 TB Korean ground dried hot pepper
1 tsp sugar
The directions say to dissolve 3 TB of pickling salt in the water, put the cabbage in a large pot, and cover it with the salt water. Weigh it down with a plate and let it sit for 12 hours.
Then you drain it, reserving the brine, and mix it with the rest of the ingredients.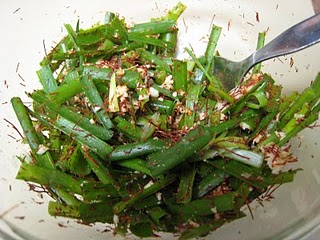 Next, you pack it into a large jar, cover the top with some brine, put a bag into the top of the jar and fill that with brine, and then let it sit and ferment for 3-6 days. We'll see if I like it.
By the way: I had all of the ingredients at home except for Korean dried peppers, so I went to
Savory Spice Shop
. Wouldn't you know… they sell Korean dried peppers!