Portland Oregon is the most edible city I know, so I decided to make a concerted effort this year during Portland Cocktail Week to check out some of the current hot spots. My job is tough, I know…
The day I landed I wound up at Clyde Common, of course. I seem to go there at least once every time I'm in Portland. But, I must honestly say, it never disappoints. The menu is always tempting, the food perfectly executed and well presented, and the cocktails are consistently satisfying.  I enjoyed a meal with Allie of Denver's Star Bar and Audrey of Boulder's OAK at Fourteenth. We said cheers over some cocktails and then went to town ordering food.
Allie, Audrey, and I shared some fantastic dishes, such as a roasted beet salad, chickpea pasta in a lamb ragu, roasted chicken, and some sort of ravioli I remember liking very much even though I can't recall the filling any longer.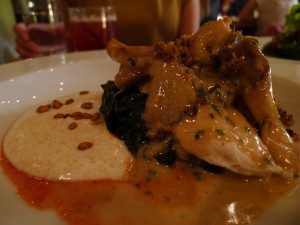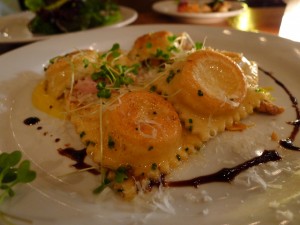 The next day I had the privilege to have lunch at Olympic Provisions Southeast. Now, this place is located in an industrial area you'd never think to walk through looking for a good place to eat. It's actually kind of hidden, but well worth seeking out.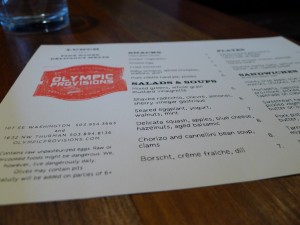 Olympic Provisions Southeast is small and decorated to be like a private liquor library/charcuterie maker, or something like that. The sliding wall shelf ladder drew my attention, as well as the handmade sausage and meat-products.  The menu is small, but let them keep it small because I'm sure everything is absolutely delicious.
The pickles, for example, tickled my tastebuds. But, if you know me, you know I can't resist homemade pickles on any menu, ever. And the garbanzo bean and baby octopus dish- OK, seriously, this was one of the best bites of food I'd ever had. Ever. Well done, Olympic Provisions! Not since living in Spain in 2001 have I had properly prepared baby octopus and this dish not only brought my tastebuds back to one of the best times of my life, it was incredibly pleasing in the moment.
Oh- before I tell you about their sandwiches, let me say the cocktails were perfect. I somehow have no cocktail photos, but Olympic Provisions is also a cocktail stop, just so you know, even though they're likely known for their huge, delicious sandwiches.
I, lame as I can be, decided to go vegetarian with a blue cheese and apple sandwich and "taste" my friend's mortadella meaty mountain packed into a bun of a sandwich.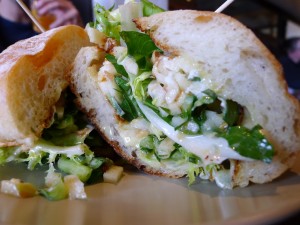 All I know is I love this place and I've been talking about it now for a couple weeks. God I wish I lived in Portland (smile).
Cascade Brewing Barrel House was a stop, as it's close to Olympic Provisions Southeast, and no trip to Portland is complete without sampling some sour ales. Beaker and Flask was also a stop for a number of craft cocktails, and that was a good place for Audrey to sip from her cocktail, then switch to coffee, then water, then back to cocktail, coffee, cocktail, coffee, repeat, as we prepared ourselves for a night that would end in the wee hours of the morning after a private bowling party at midnight for hundreds of bartenders from all over the country…. but…. back to dining out in Portland.
On my third day there, I had the pleasure of visting with my friend Julia from college (study abroad Spain 2001!!!!). After a day of classes at the Mc Menamins Kennedy School (there WAS an educational component to this week, after all), Julia picked me up from school with a good plan- First a stop at Whiskey Soda Lounge and then The Woodsman Tavern– I had been DYING to check out The Woodsman Tavern, so, perfect. plan. Julia!
The Whiskey Soda lounge was a fun place to grab a couple drinks and snacks. I especially liked how their spiced peanuts came in a stapled paper sack, by the way.
Julia and I also shared some deep fried papaya. This things was crazy looking, but we dug in, pulling off slivers of papaya and dunking them in a spicy Southeast Asia-style fish sauce. It was a great dish to share.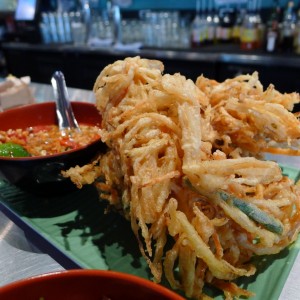 At The Woodsman Tavern, our lovely bartender Lydia (who is TOTALLY Tommy Klus' twin sister, by the way) guided my friend Julia through some whiskey. I had decided Julia was going to break through her Maker's Mark comfort zone, and Lydia helped make that happen. We also enjoyed fried ricotta balls and a jar of pickled shrimp.
So, let's see… I said hasta luego to Julia and wound up at a Drambuie event where I met up with Audrey from OAK (you remember Audrey) and the Layman Brothers- Randall of Ace.Eat.Serve, and his equally handsome identical twin brother, Ryan of Steuben's. Now, let me assure you- these men are not your typical Laymen- They're the Layman Brothers, to be exact. We grabbed food at The Doug Fir, some sips at a Zwack party, and then Audrey and I caught a ride to Circa 33 for an Oban tasting, and then to Beast for another Scotch tasting and a pork extravaganza, including the pig's head and a lot of sliders…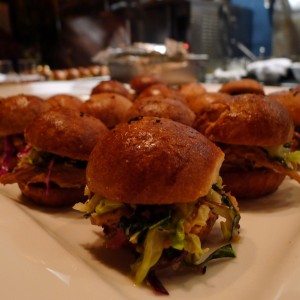 My last full day of eating and drinking before catching a 6 am flight back to Denver included 4 hours of classes on cocktails, blogging, tasting… etc. And then I had one of the best meals ever at Riffle, which deserves and entire blog post of it's own, which you'll find HERE.
Anyway, my taste of Portland ended in a dive bar with Randall (Denver Eater Bartender of the Year 2012) Layman over a Ninkasi beer and industry/life talk, as well as observing that even in a dive bar there were great beers on tap and a pretty decent selection for booze should someone want a cocktail. Overall, I'd say it was the best trip to Portland. Ever.
So, until next time… P-Town. Thanks for hosting all of us drunkards for Portland Cocktail Week. We mostly remember it…