Black Garlic Tofu and Bok Choy Sesame Noodles
One of the newer staples in my arsenal of
Savory Spice Shop
ingredients is
Korean Aged Black Garlic.
It can turn an ordinary dinner into something much more interesting and unique, so, pick some up and experiment.
Here's what I did this time…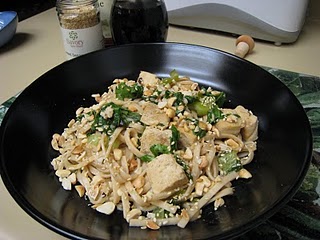 Ingredients:
One block firm tofu, frozen, thawed, pressed, and cut into 1 inch cubes
2 TB chopped garlic
2 TB chopped black garlic (which you can find at Savory Spice Shop)
1 TB grated ginger
4 TB soy sauce (divided in half)
1 TB sesame oil
1 TB rice vinegar
1 lime
1/2 cup white wine
baby bok choy, chopped and divided between leafy greens and celery-like stem
soba or udon noodles
3-4 TB toasted sesame oil
toasted sesame seeds (I buy my seeds already toasted from Savory Spice Shop)
chopped peanuts
First, bring water to a boil for the noodles. Cook the noodles according to the directions on the package. They are frequently boiled, drained, and rinsed in cold water, so I like to bring my water to a boil while prepping other ingredients.
Heat up a wok with 1 TB sesame oil. When hot, add the tofu cubes, ginger, garlic, and 2 TB soy sauce. Let this cook a bit, tossing it around occasionally. Squeeze half of the lime, mix, and let it cook. Next, add the chopped stem part of the bok choy and 1 TB rice vinegar. Then add the white wine and the rest of the soy sauce and let it cook another few minutes (approximately 10 minutes total).
By now, the noodles should be boiled, drained, and rinsed. Add the noodles to the wok as well as the leafy part of the bok choy and toasted sesame oil, and gently stir to mix it all evenly and heat the noodles all the way through.
Scoop some noodles into a bowl and top with some toasted sesame seeds, chopped peanuts, and a spritz of lime. Enjoy with chopsticks.