We had the honor and pleasure of cooking Thanksgiving again this year for a really great family.
I bought a local turkey as I did last year from Long Shadow Farm in Berthoud, CO. Unlike last year when I arrived at the farm to find a woman seated at a desk in the garage near a large refrigerator distributing chilled birds to anyone who had pre-ordered, this year I walked into a slaughtering/de-feathering/cleaning of turkeys small-scale processing line that I was not expecting at all. Our bird hadn't even been chilled as she had been slaughtered just a few hours prior to pickup. Talk about having a real understanding of where our food comes from! I have that image seared into my memory… and will spare you the few photos I took.
We're very fortunate to purchase such a quality turkey, so it's extra important to me to serve it with all made from scratch accompaniments and sides.
I made the caramelized onion gravy base on Tuesday night. I've been making this gravy for more than ten years now, and each year I think it tastes better than the last. The butter and onions cooked low and slow for six hours. Six. Hours.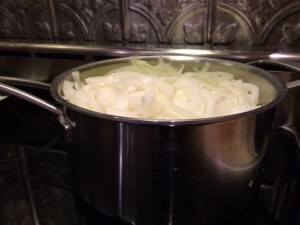 I started with a full pot and snapped a photo every couple of hours…
…until I couldn't resist spooning it into my mouth.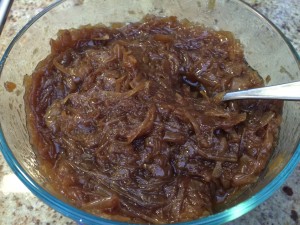 Wednesday I made my pumpkin pie, but failed to snap a photo. I also made a cranberry sauce with roasted shallots and mandarin zest.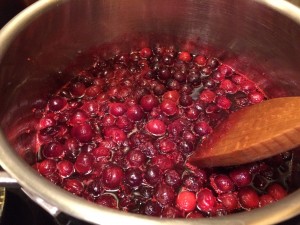 Thursday, Chef and I cooked the rest of the meal on site in their Boulder home. The beautiful bird went into the 325 degree oven after being rubbed with butter and herbs. She amazingly and somewhat surprisingly appeared done after just under two hours. That was a fast cooker!
I put together a wild rice stuffing while Sean made a sweet potato and chevre gratin, which has now become a Thanksgiving tradition for this family.
The ingredients in this dish are simply sinful- The health benefits of sweet potatoes are far outnumbered by the cheese and heavy cream combo. But, that's what makes it so GOOD too!
While the gratin baked, Sean worked on maple glazed carrots in a cast iron skillet.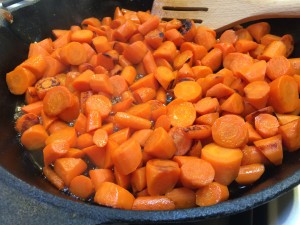 Next, he assembled green beans in shallot butter topped with fried shallots.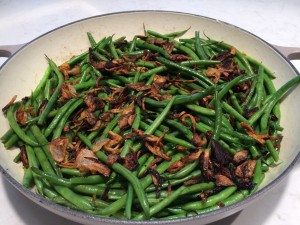 We added the pan juices to the gravy base, carved the bird,
And set up a small buffet for them.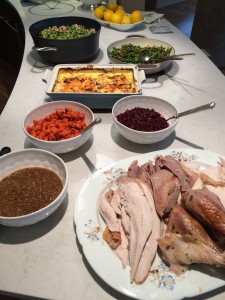 We can't wait until next year!
Simply delicious. Orange, Lettuce, Blueberries, Cranberries, and a little water.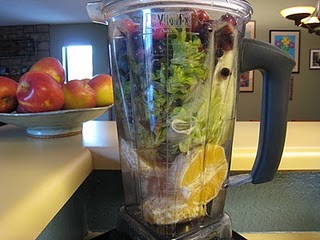 Turn the
Vitamix
up to high, hold on tight…
And enjoy. Drink to your health!
I was really glad to stumble upon this recipe posted on
The Bad Girl's Kitchen
for this month's
Taste & Create
because I had some of these famous Aussie Bites a couple years ago. I liked them so much that I wrote down the ingredients from the package and that little piece of paper has been in my kitchen drawer ever since.
So, I took out that paper, compared it to the recipe posted, and adapted it a little according to what I had in stock. I think they turned out nicely.
Here is my ingredient list:
1 cup whole oats (I toasted mine for 10-15 minutes on a baking sheet while preheating the oven)
1 cup oat bran
1 cup whole wheat flour
1 cup unbleached white flour
1 cup grated coconut (unsweetened)
1/3 cup sunflower kernels
1/3 cup dried cranberries, coarsely chopped
1/3 cup dried apricots (I had some California apricots) coarsely chopped
1/4 cup raisins, coarsely chopped
12 TB ground flax seeds
1/2 cup evaporated cane juice
1 TB cinnamon
1 cup heavy whipping cream
1/2 cup honey
3 eggs, beaten
1 cup warm water
1 tsp baking soda (I live at high altitude, so I used 3/4 tsp baking soda)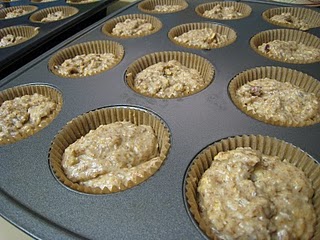 Combine all of the dry ingredients in a bowl except the baking soda.
In a large measuring cup, measure 1 cup of cream, add the honey, and slowly mix with a wire whisk until well combined. Then add the eggs and mix until combined. In a separate measuring cup, combine the warm water and baking soda. Let this cool a few minutes before adding it to the cream, honey, and egg mixture. Mix well, add to the dry ingredients, and pour into muffin pans.
I don't have mini-muffin pans…yet… so I used regular muffin pans and lined them with unbleached baking cups from
If You Care
. My Aussie Bites took 20 minutes to bake.
They came out delicious, and I will play with this recipe in the future to make a few variations.