I was recently invited to join a number of food bloggers for a private dinner at Cascades in Estes Park.  I had never been to the historic Stanley Hotel, nor had I heard about their restaurant, Cascades.  I have, of course, seen The Shining, and have always been intrigued by that gorgeous white hotel sitting on the hillside in Estes Park that inspired Stephen King to write the haunted horror story.  And, as I approach my seventh year in Colorado, it seems to be about time I step foot in The Stanley. Lucky for me, I got to enjoy a fine meal there as well as meander the enchanted hotel.
Cascades is known mostly as a steakhouse, but Executive Chef Richard Beichner demonstrated his modern approach to classic steakhouse fare.  He told us that Cascades buys as much locally sourced foods as possible, and he presented us plate after plate of modern interpretations of classic dishes.
While we waited for everyone to arrive, cocktails were served.  I started with a French 75, a gin martini with champagne and lemon juice. After the first sip I had great expectations for the afternoon because, in my experience, a good cocktail is often created in establishments that serve good food.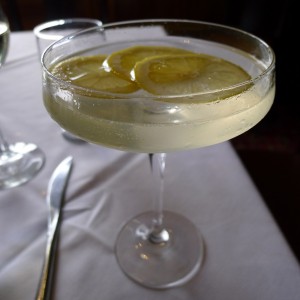 Our first dish was Pastrami Salmon on a cucumber slaw with 1000 Island Panna Cotta and Rye Croutons.  This was a play on Reuben sandwich and it worked.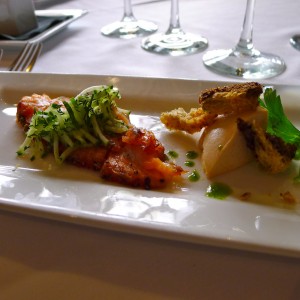 Garlic infused olive oil sat on the table.  I couldn't stop dipping my bread in this golden delicious temptation.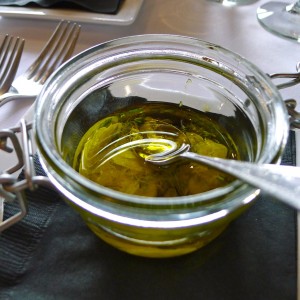 Next came a raw vegetable salad with radish, carrot, fennel, and honey mustard dressing.  Again, a real crowd pleaser.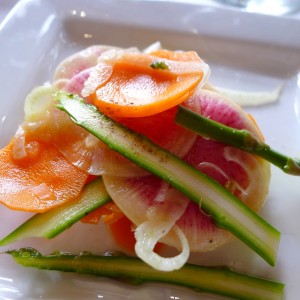 Our next dish was quite unique- zucchini spaghetti with rock shrimp in a San Marzano tomato sauce.  I love zucchini noodles and this dish, which was really well done, inspired me to make some as soon as zucchini is in season.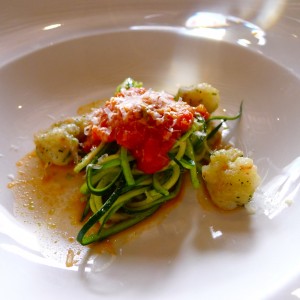 Our next dish was a preserved lemon and rosemary roasted veal loin with a red wine demi glaze served over fresh corn polenta and orange scented carrots.  I must say- I wasn't thrilled to be served veal, but it was good.  I definitely wouldn't order it… probably ever from any where, but, after casting my anti-veal opinions to the side, I enjoyed the dish. I could have eaten a large bowl of fresh corn polenta and would highly recommend looking for that on the menu at Cascades.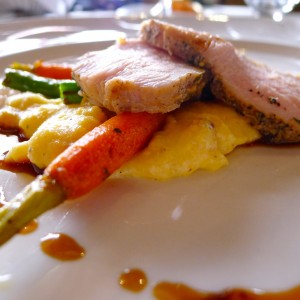 We enjoyed thoughtful wine pairings throughout the meal, though I did not pay close attention to them.  I have in my notes that a Pinot Grigio was served with the zucchini spaghetti and a Le Nez Pinot Noir from the Willamette Valley was served with the veal. (My ears perk up when I hear Pinot Noir and Willamette Valley, so I made a point to write that one down). With dessert we enjoyed a Canadian Ice Wine, and if you're not familiar with ice wines, they're super sweet and have a concentrated flavor.  I really enjoy them.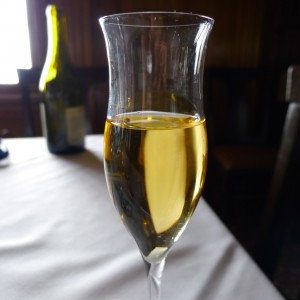 Ice wine went well with nutmeg sugar donuts, bruléed red grapefruit, vanilla bean gelato, and grapefruit salt caramel.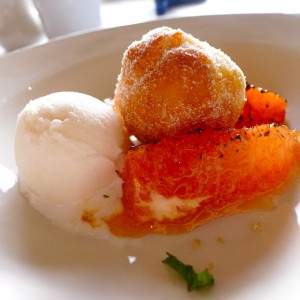 And then more sweet bites came out, or "mignardises," if you'd like to be proper. We all sat and nibbled on a variety of delicious mini pastries for a while before venturing off to explore the haunted hallways of The Stanley Hotel.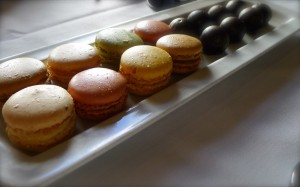 If you're a resident of Estes Park, Cascades offers you 20% off year-round, so I'd suggest treating yourself to a nice meal there at your local neighborhood restaurant.  If you're passing through Estes, you'll see there aren't as many dining options as we have in Boulder, so I'd give Cascades a try.