For this month's
Taste & Create
, I was paired with
My Green Mouth
. It was perfect timing, because just as I was looking at the recipe archive to find one I wanted to re-create, I got some radishes from my CSA. I am not a fan of radishes, but My Green Mouth had a recipe for pickled radishes that struck my interest.
Here is the
recipe
from My Green Mouth.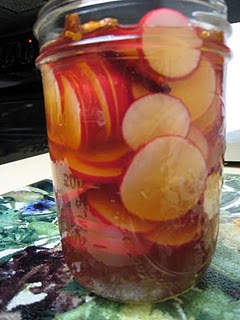 I washed and sliced a bunch of freshly picked radishes. These went in a Ball jar with a few (or more… how spicy do you like it?) dried thai chili peppers.
I a Pyrex measuring cup, I dissolved 1/2 cup evaporated cane juice and 1 TB pickling salt into 1 cup red wine vinegar. Then I poured the vinegar mixture over the radishes and put a lid on it. My Green Mouth suggests that these radishes are ready to eat after 24-hours in the fridge. I, unfortunately, will be going out of town, so I'll let you all know how they turned out in a few days when I return.