I am finding uses for the
Korean Aged Black Garlic
I recently bought. It has a very unique flavor that pairs well with mushrooms and soy sauce for a complete umami experience. Have you tried cooking with black garlic yet? I don't know a lot about it, but I'm interested in finding some new flavor combinations to play around with.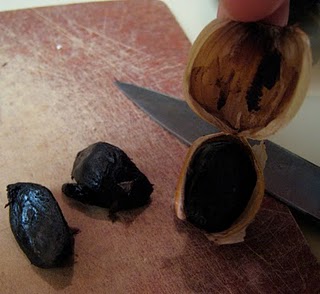 For this dish, I coarsely chopped some black garlic. You'll see for yourself upon handling black garlic that it is easier to give it a coarse chop than a fine mince. It is very soft, yet not as soft as roasted garlic. It's interesting. I like it. It is also black… very black.
I had some of my favorite mushrooms on hand-
Hazel Dell
, of course. I sliced up some cinnamon cap, cremini, oyster, and shiitake mushrooms, as well as some bok choy I received from my CSA with
Ollin Farms
.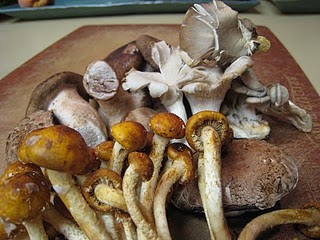 Heat up a pan with 1/2 TB peanut oil and 1/2 TB butter. When this is hot, add your mushrooms and get them going. After a few minutes when they start to almost stick to the pan, add a TB of soy sauce, some chopped black garlic, and give it a stir.
After a few more minutes, add the chopped bok choy and 1/3 cup or so of white wine to get a little sauce going.
When the bok choy is bright green, it's done. I sprinkled some toasted sesame seeds on top.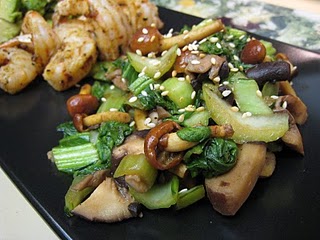 I kept this really simple for three reasons. 1) I wanted to taste the black garlic. 2) the mushrooms and bok choy were super fresh, so I wanted to allow their flavors to show through without added spice. I just might change that if I make this again without farm-fresh foods. 3) I served it with my super flavorful
Best Grilled Shrimp
.