Anyone following the food scene in Boulder knows that we now have more phenomenal pizzerias per capita than anywhere outside of Italy. Where did I get that statistic? I made it up, but it seems to be true lately. In my latest taste-test of our primo-pizzerias, I went to
Pizzeria da Lupo
, which is located right next to Larkburger in the Village Shopping Center. Where is that? It's where
McGuckin's
is, silly.
Anyway, let's get back to the pizzeria… Walking in, this place felt like a pizzeria. I don't know how to describe that exactly, but there was a familiar feel to the open kitchen, small tables, and unpretentious decoration. I could have been in a pizzeria back in Jersey as a kid. That's what it felt like, I suppose.
But, unlike a kid, I started with some wine…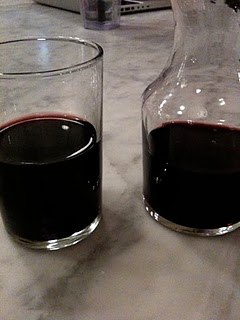 I tried the Cinquepassi Negroamaro from Puglia, Italy. I can't recall ever trying this variety before, so I went for it. Good choice.
I also really liked that they gave us a small plate with some sea salt, crushed red pepper flakes, oregano, and shaved parmesan. That is exactly what you need with pizza and it was great to have it right there to pinch some if you wanted it. Nice touch.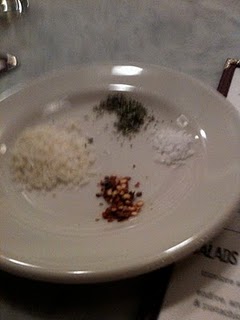 We started with the shaved brussel sprout, pecorino, and walnut salad. It was great, and I'd order it again. I eat enough "standard" salads at home, so it's always nice to order something different when we go out.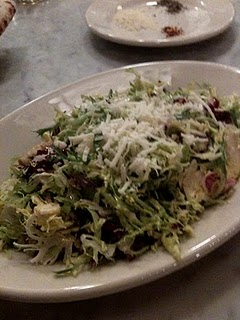 We also split the burrata. I've realized that if I go somewhere and burrata is on the menu, I order it. Pizzeria da Lupo serves burrata with pistachio, lemon confit, caper agrodulce, and flatbread. As I was eating it I wished I had ordered a few servings of that for dinner. But then… the pizza arrived.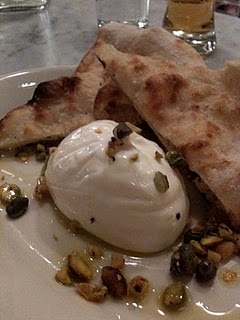 We got two pies: I wanted the bianco, which was topped with house made mozzarella, reggiano parmesan, ricotta, and arugula. They served the pies on cool two-tiered wire racks. Another nice touch.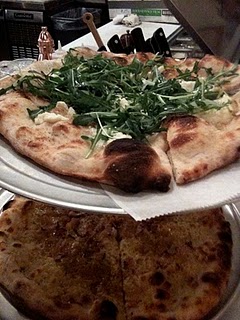 Kevin had the pancetta pie topped with bacon, caramelized onion, and scamorze cheese. He basically said it was one of the best pies he's eaten outside of Italy. But, mind you… we've only been to northern Italy and over-indulged in northern style pizza. Looks like we need to travel to the south for traditional Napoli pies to make an educated comparison.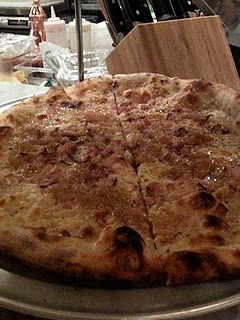 And now… for the most important detail of a pizza… the crust. Pizzeria da Lupo is doing something right because their crust is light and airy with just enough crunch and chew to make it almost addictive. Even when I was full I went back for one more slice. And then when we got home with left-overs I went back again for my last slice. Come to think of it, it would be nice to have another slice right about now.
So go check them out. Pizzeria da Lupo is new, so give them a try.
2525 Arapahoe Ave, Boulder, CO 80302.
303-396-6366
Order some pies and let me know what you think.