Olive Flatbread
Is it pizza or is it flatbread? I don't really know. I think I'd call it pizza if it had one or two more ingredients on it, but this simple pizza-like flatbread was just brushed with olive oil, sprinkled with Spanish Roasted Black Olive Sea Salt (which you can find, of course, at
Savory Spice Shop
), some sliced olives (I got a mixed container of olives from the olive bar at Whole Foods), and some grated parmesan cheese.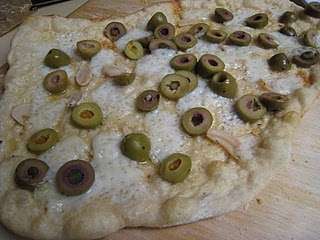 So, maybe it's a flatbread. But, I used a pizza crust recipe…. hmmm…
For my crust:
In a large pyrex measuring cup, mix 1 1/3 cup warm water, 1 TB yeast, and a spoon full of sugar. Let this dissolve and sit for approximately 10 minutes. Your yeast should get nice and frothy, which lets you know it is alive.
In your stand mixer with the dough hook attachment, measure out 3 cups unbleached bread flour, 1/2 cup whole wheat pastry flour, a pinch of sea salt, and some freshly ground black pepper. Mix this for a few seconds with the dough hook before slowly adding the liquid and a couple tablespoons of olive oil. Knead this in the mixer, adding a little more flour as needed, for 10 minutes or so until it is a nice, smooth dough ball that isn't sticky.
Then cover the bowl- I usually put wax paper over the bowl and then cover that with a dish towel. Place the bowl in a warm area (not a hot oven) to double in size over the next hour or so. Then, punch it down and start rolling out crusts, or flatbreads.
I like baking my pizzas and flatbreads on a baking stone in a 425 degree oven. They cook in no time. Enjoy!