As the owner of Local Table Tours in Boulder, I am often asked by my dining guests about places to eat in town. I usually run through all the best places downtown… SALT, The Kitchen, The Pinyon, Bácaro… But recently, my recommendations have expanded to the hill, that few square blocks of town up by CU. Where should you eat up there? Pickled Lemon.
Pickled Lemon is the latest culinary creation from the Bar-on family, more well-known as the founders of Udi's bakery. The casual Israeli eatery is now on the top of my list of places to eat in town. Chef Robin Bar-on created a healthy, mostly vegetarian menu that honors traditional Israeli dishes while being interesting and quite pleasing to the American (and more importantly, Boulder) palate.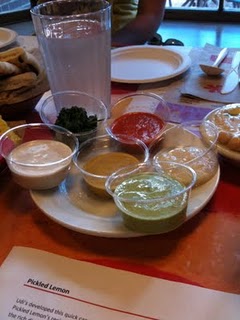 Sauces: All made in house.
Harissa (hot!), Dill Ranch, Roasted Garlic, Green Chili, Green Tahini, Amba Mango (Ketchup of Iraq)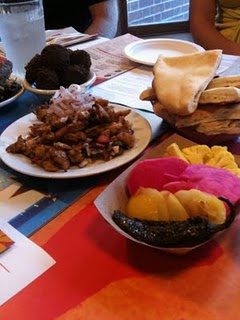 Pickles: House made.
Pickled Lemons, Kimchee Kraut, Cauliflower, Sumac Onions, Jalapeños, Turnips, Cucumbers
The Chicken Shawarma features a 21-spice blend made exclusively for Pickled Lemon by
Savory Spice Shop
. Pitas are baked from scratch every morning at Udi's in Louisville, hummus is made daily, and green falafel, also made daily, is perfectly fluffy, crispy, and almost creamy on the inside.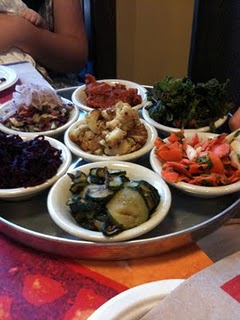 The vegetable salads at Pickled Lemon are all fantastic, so you're not going to leave this place without a few servings of veggies.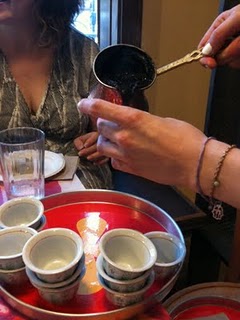 Robin served us some traditional Turkish coffee. This is apparently reserved for "special" occasions. But, I thought I'd tell you, in case you're a Turkish coffee aficionado and are looking for a spot that serves it traditionally in town. It's an amazing coffee… that's all I'll say. If you want to try it, you'll have to ask Robin!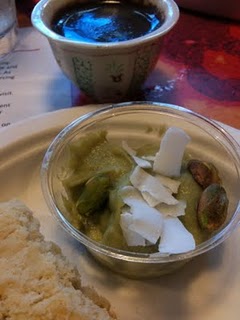 Pistachio Pudding is my new favorite dessert. This is a must-try.
Pickled Lemon also serves a few cocktails, such as Pickled Lemon Margaritas, Moscow Mules, Piña Coladas, and Pomegranate Mojitos. I tasted all four and would recommend all four, especially the marg.
So, head up to 1155 13th Street up on the hill. It will soon be one of your new favorite places in town.
The Organic Pizza Company
. Who/What is that? It's a great take and bake pizza company and if you're near a Denver metro location, pick up a pie for dinner.
Our private tasting event at the OPC's new location in The Spire building started with a pizza making demo. It is all done by scratch- dough and all, and there aren't any crazy funky ingredients either. The Organic Pizza Company makes pies like you would at home and they source organic ingredients.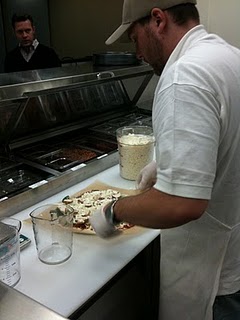 We headed to a private dining area and were greeted with lots of good wines.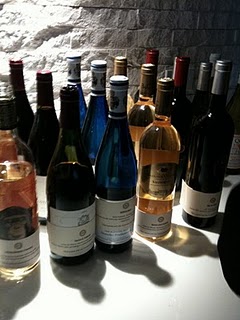 Then the pizzas started coming…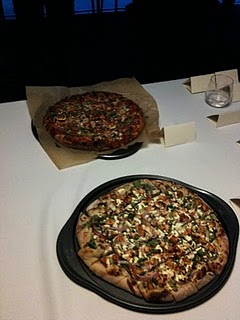 I ate a few pieces and got caught up in conversation. I soon realized that all of those wines were not some random wines for us to taste. The Organic Pizza Company partners with local liquor stores to provide pizza buyers with wine pairing suggestions for each pizza. I love this idea! You can plan an affordable pairing base on some great suggestions from wine enthusiasts.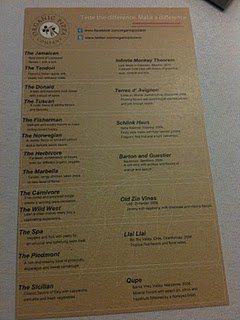 I think the wine pairing idea is so good it's copy-worthy. Really. Copy-worthy. Consumers often like a little help with this part of dinner, so I like that The Organic Pizza Company has thought this out.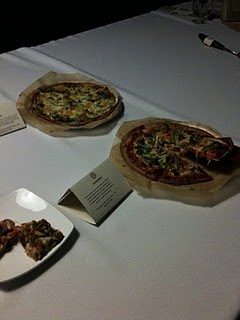 They offer a gluten free pizza with
Udi's gluten free crust
. I had a slice and it was really good. You can order any one of their pies gluten free.
At first, I payed a lot of attention as each pie was presented.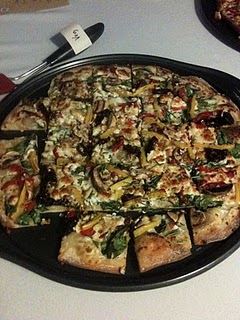 And then I got so caught up in conversation I found myself snapping photos way after people had served themselves.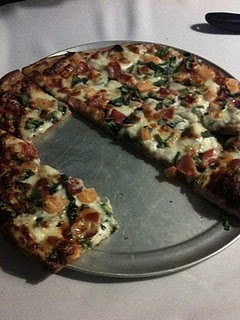 In the end- I not only had a great time meeting people, drinking wine, and eating great pizzas… I got to take one home with me to bake on my pizza stone.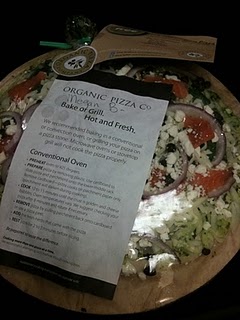 I ordered the Norwegian pie that comes topped with smoked salmon. It baked up nicely and my hungry man, who had not been eating pizzas with me all night, was happy I came home with dinner. The pizza baked well according to their baking instructions, and to me, that's the most important part. It's good to know that the pie actually bakes at home the way it is supposed to.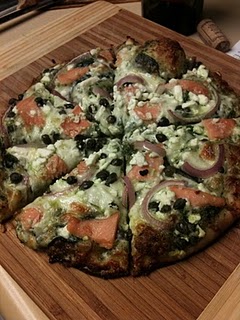 Denver Highlands- 4500 W 38th Ave 303-561-1111
and downtown Denver- 891 14th St 303-534-2223
They also deliver within 2 miles of their locations.
Simple ingredients: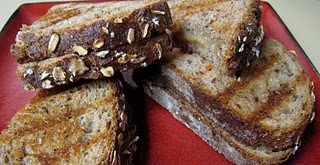 I grated a clove of garlic on my ginger grater. You might consider using a small clove, or even half of one if you don't want to wake up the next day with the lingering taste of garlic in your mouth!