The Organic Pizza Company
The Organic Pizza Company
. Who/What is that? It's a great take and bake pizza company and if you're near a Denver metro location, pick up a pie for dinner.
Our private tasting event at the OPC's new location in The Spire building started with a pizza making demo. It is all done by scratch- dough and all, and there aren't any crazy funky ingredients either. The Organic Pizza Company makes pies like you would at home and they source organic ingredients.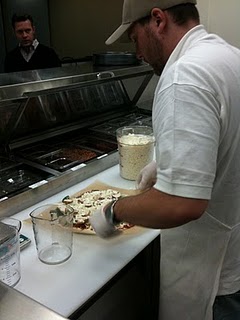 We headed to a private dining area and were greeted with lots of good wines.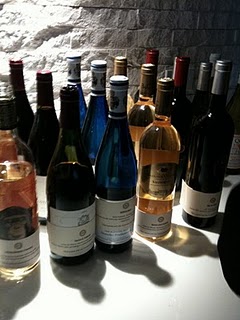 Then the pizzas started coming…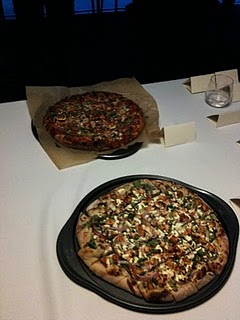 I ate a few pieces and got caught up in conversation. I soon realized that all of those wines were not some random wines for us to taste. The Organic Pizza Company partners with local liquor stores to provide pizza buyers with wine pairing suggestions for each pizza. I love this idea! You can plan an affordable pairing base on some great suggestions from wine enthusiasts.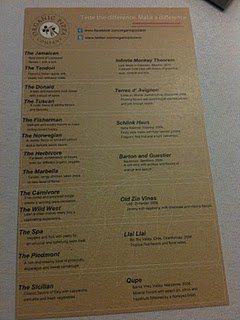 I think the wine pairing idea is so good it's copy-worthy. Really. Copy-worthy. Consumers often like a little help with this part of dinner, so I like that The Organic Pizza Company has thought this out.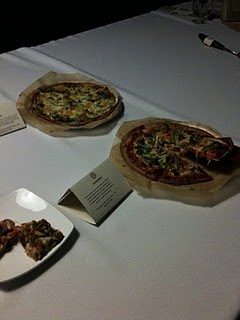 They offer a gluten free pizza with
Udi's gluten free crust
. I had a slice and it was really good. You can order any one of their pies gluten free.
At first, I payed a lot of attention as each pie was presented.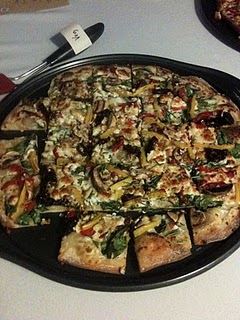 And then I got so caught up in conversation I found myself snapping photos way after people had served themselves.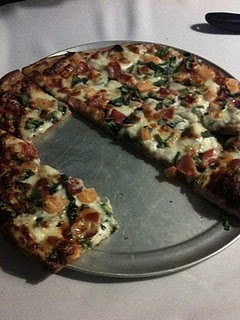 In the end- I not only had a great time meeting people, drinking wine, and eating great pizzas… I got to take one home with me to bake on my pizza stone.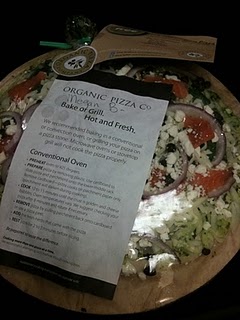 I ordered the Norwegian pie that comes topped with smoked salmon. It baked up nicely and my hungry man, who had not been eating pizzas with me all night, was happy I came home with dinner. The pizza baked well according to their baking instructions, and to me, that's the most important part. It's good to know that the pie actually bakes at home the way it is supposed to.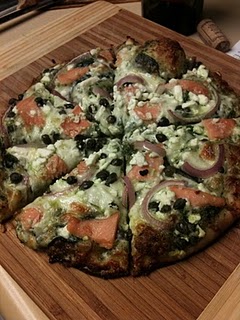 Denver Highlands- 4500 W 38th Ave 303-561-1111
and downtown Denver- 891 14th St 303-534-2223
They also deliver within 2 miles of their locations.