Cool weather is here and what better way to help heat the house than to bake something! Colder temperatures also mean that the flavor of certain vegetables, such as sweet potatoes and yams. The plant, when faced with dropping temperatures, starts to convert the natural starches into sugars so it can survive. What does that mean? It means fall time is the best time to eat these tubers.
This side dish is perfect for any occasion, especially right around Thanksgiving. Now, sweet potatoes and yams are interchangeable but they do have some differences. Most yams will have a little more water content than their close cousins. Yams are better to mash up but will work in a this sort of application. But "Jeweled" or ""Garnet" sweet potatoes are what are most common, although I'm sure your local farmer could help you decide.
SWEET POTATO & CHEVRE GRATIN
4 Large Sweet Potatoes
1 Pint Heavy Whipping Cream
7 Ounces Goat Cheese
Heat oven to 375. Peel and slice the sweet potatoes using a mandolin, making sure that cuts are uniform. I find it easier to make "coins" rather than trying to cut the veggies lengthwise. Using a 7″ by 10″ baking dish, layer sweet potatoes with cream and crumbled goat cheese. I like to season every other layer with salt and pepper so that the dish is flavorful but not over seasoned. Potatoes should be covered in cream but not swimming, they have water that will cook out during baking.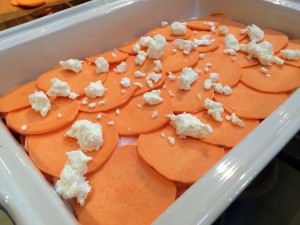 Bake uncovered until gratin is easily pierced with a knife, about 45 minutes.