Pizzeria Locale is my neighborhood pizzeria. I live one block away and take great pleasure in their contemporary Napolitano style pizza. Their pizzaiolo, Jordan Wallace, studied the art of pizza in Napoli, and I dare say he's one of the best pizzaioli in the US, especially if we're talking about pizzaioli who serve the wet, uncut Napoli style pizza.
When Locale announced their first guest pizzaiolo event with Chris Thompson of A 16, San Francisco, I cleared some space in my calendar.  The A 16 dinner was three courses for $18 per person, which, by the way, is the most reasonably priced meal I've had in a long time.  As with any visit to Pizzeria Locale, we started out with some spritzers. I enjoyed the IPA (Indian Pale Americano) spritz which, like a traditional Americano cocktail, features Campari, Cocchi Vermouth di Torino, soda water, and some of their house made hops bitters. My friend Matt, a total gourmand who had not yet been to the pizzeria, enjoyed a Rabarbaro Zucca spritz- a simple spritz of dark amaro and soda water. I'm also constantly craving Locale's arancini, so we ordered four perfectly crispy balls of risotto to go with our spritzers.
And let's not forget to mention the lovely couple across from us that evening: Lacey and Paul of DiNalo Glassware. You'll see some fine glass straws in my drinks in this post and from now on- Once you sip a cocktail from a DiNalo straw…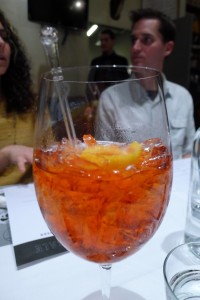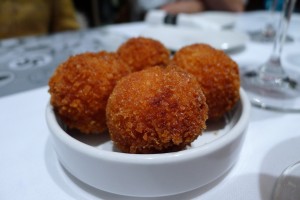 First came our insalata with escarole, pickled and roasted grapes, caciocavallo, and saba.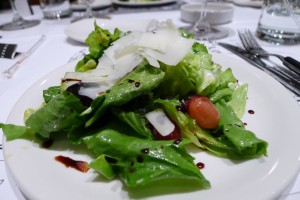 I never even read the menu, so my first bite of salad with the grapes was quite a pleasant surprise. Why didn't I read the menu? It was a bit hectic… There were so many pizza fans dining out that evening, that I walked in to a bustling pizzeria full of friends, associates, and Locale staff, all eager to say hi, chit chat… and then once I brought out the glass straws… talk about a conversation piece.  They're pretty in Locale's water glasses-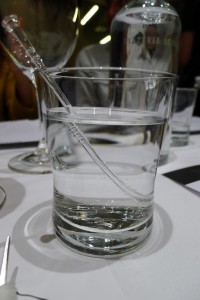 Anyway, arancini, check. Insalata, check. Next in line was Le Pizze- either a bianca with mozzarella di bufala, radicchio di treviso, prosciutto cotto, garlic, oregano, and parmesan, or una rossa with provola di bufala, cavolo nero kale, tomato, red onion, parmesan, and chili flakes. How is one to choose? Well, between the four of us we ordered two of each. Simple.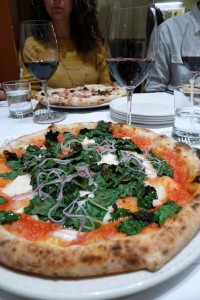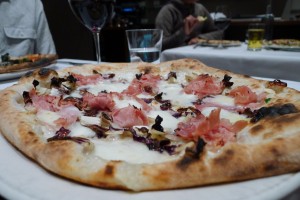 There are few things that I enjoy more than eating pizza with a knife and fork, by the way.  That's just one small reason I'm such a huge fan of this place. But, I got to see a side of Locale I'd not known before- They were so crowded when we arrived that they set up the Caffè with a four-top and a two-top. It was a more private dining experience being in the cozy private room (known as Frasca's caffè during the day), yet we were attended to as you'd expect within the Frasca family of establishments.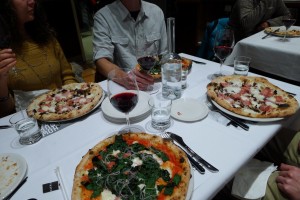 Let's see, dear reader… what else happened? We enjoyed a bottle of southern Italian red wine with the meal (it doesn't matter which bottle, it was quite drinkable with pizza and friends), and before dessert, I left the private dining room to say hi to some people and snap photos. Next thing I knew, manager Chris Donato was bringing my friends on a mini private food tour to check out the kitchen and get a behind the scenes view of the pizzeria. I jumped on board, of course. I love getting near the 1000 degree Stefano Ferrara pizza oven. That right there is something worth writing home about.
We returned to our table and found some dolce there- we had a chocolate budino with sea salt and olive oil, which I had actually been looking forward to all day since Locale posted a photo of it on their Facebook page earlier that morning.  We also sipped, in the Italian tradition, a little amaro while guest Chef Chris Thompson was at our table talking about pizza, pizzerias, being a guest chef at Locale… and all kinds of food topics, such as glass straws, that we were able to squeeze into the few minutes he had to say hello.
Writing this makes me want to go to Pizzeria Locale for dinner tonight, as I truly believe that any day is a perfect day for a Locale pizza. But, more to the point- I'm looking forward to future guest chef evenings at Locale. It's a great way to bring a little bit of the rest of the world into our perfect little Boulder bubble while sharing great pizza.