You walk in to a gourmet fresh produce market with raisins dried on the vine, exotic fruits, fresh vegetables, and a free vegetable butchering service. Turn to the right and approach a coffee bar, then a snack bar, an ice cream shop, chocolate shop, and home goods specialty shop. Head up to the second floor and enter a brewery, winery, olive oil shop, bakery, cooking school, pizzeria, vegetable restaurant, fish market and restaurant, cheese shop, fresh pasta shop, butcher counter, salumi shop… I'm definitely forgetting a number of "shops" under this two-story department store sized restaurant and marketplace. But, hopefully you get my point if you haven't had the pleasure of visiting EATALY in NYC, Chicago, or any of its other European, Middle Eastern, or Asian locations.
Sean and I did a really quick reconnaissance after enjoying The Publican, and decided to return the next day for lunch.
We chose to dine at the Verduri restaurant, and started with their Bruschetta del Giorno.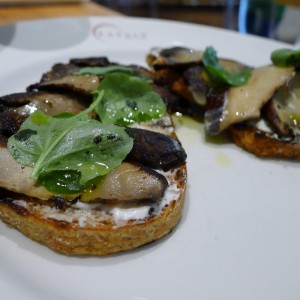 And a couple glasses of rosé in EATALY glasses (available for purchase, of course).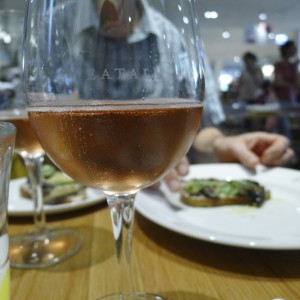 Next came the Asparagi dish with a beautifully fried egg on top.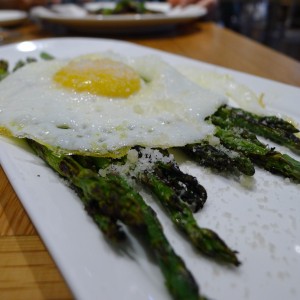 We followed that with Verdure Piastra, which was essentially a big serving of farro topped with roasted veggies.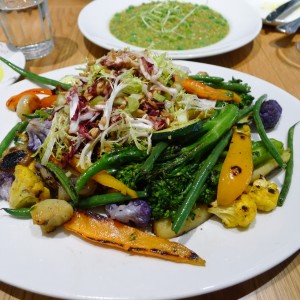 And chef had to try their Green Pea Farrotto, as he'd just been talking about wanting to put a Farrotto on his own menu at Zeal.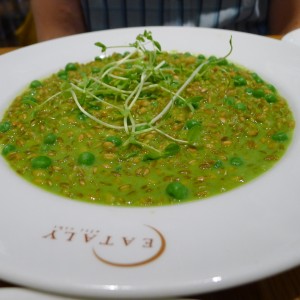 The verdict? The Farrotto, which is essentially a risotto-style dish made with farro rather than rice, seemed to be rapidly prepared rather than slowly cooked the way this labor intensive dish is best made for a creamy, delectable experience. It seemed like pre-cooked farro was added to a pea broth rather than cooked in a broth over a long period of time. But, the flavor was good. The Verdure Piastra was a HUGE portion of food, yet priced the same as the Farrotto. This seemed off to us. And in the end, lunch cost $130 including tax and tip. That's a pretty expensive lunch!