I love making
peanut sauce
, and I especially like to make it in the summer when locally grown fresh veggies are available. Here's one example of a peanut noodle dish.
I had some shiitake and oyster mushrooms from
Hazel Dell
.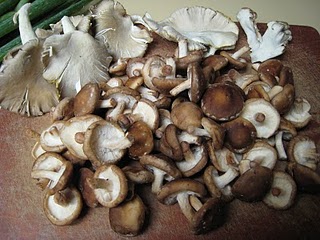 I sliced them and sauteed them in a little butter and peanut oil with 1/2 of a yellow onion and some scallions.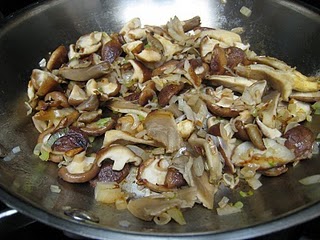 While the mushrooms cook, boil some water for your noodles. I used a package of udon noodles and prepared them according to the instructions on the package. Pay attention to the instructions because over or under-cooked noodles do not make a great dish.
When the noodles are done, rinse them in cold water and drain well. Then transfer them to a large bowl and add the mushrooms as well as some other veggies. I added sliced carrots and blanched broccoli florets.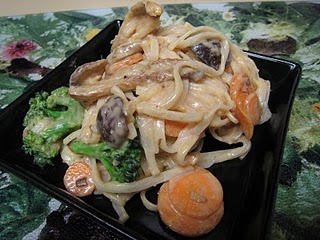 Get creative with some seasonal veggies and enjoy.
I love peanuts. Peanut butter. Peanut butter cookies. Roasted peanuts. Spicy peanuts. There is something about the flavor of peanuts that is very appealing to me and I am so very grateful I do not suffer from peanut allergies.
That said, I don't eat many peanuts anymore because I mostly eat almonds. Almond butter, roasted almonds, etc. So, it is always a special treat when I decide to make peanut sauce for something like peanut noodles or Gado Gado, a traditional Indonesian vegetable salad covered in peanut sauce. Yum. That always brings me back to one of my favorite places on earth: Indonesia- the inspiration for this sauce.
So, here's your warning: This isn't really a quick sauce to prepare. You need to follow through with a few steps, but it is well worth the time and effort, I promise.
Step 1: Thinly slice 4 cloves of garlic and fry them with 3-5 dried Thai chilies (I always go with 5) in a couple tablespoons of peanut oil until the garlic is golden and toasted and the chilies are a little puffed.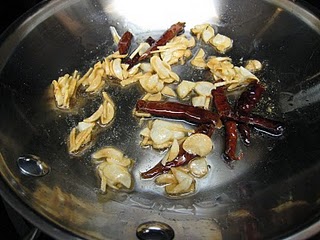 Step 2: Remove these from the heat and oil to stop them from cooking. Let them cool on some paper towels while prepping the rest of the sauce.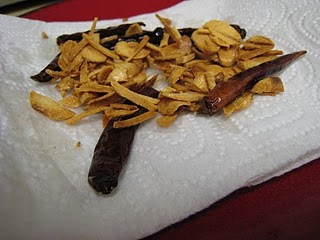 In my kitchen, I have a step 3: Make peanut butter. I put 2 cups of peanuts in the
Vita-Mix
and make fresh peanut butter in about one minute's time. If you don't own a Vita-Mix yet, make sure you are using real peanut butter. Basically, that means please, please, please only use peanut butter if the the ingredients read: Peanuts. Or, Peanuts and Salt.
Step 4: In a bowl or large Pyrex measuring cup, add approximately 1 cup of peanut butter. Everything in this recipe is approximate, so you can play with the flavors and add more of something or less according to your tastes.
Next, add:
5 TB soy sauce
1/2 cup honey
juice from 2 lemons
juice from 1/2 lime
1/4 cup warm water (it is easier to mix with warm water rather than cold)
Mix this well.
Step 5: Grind your garlic and chilies in your mortar and pestle.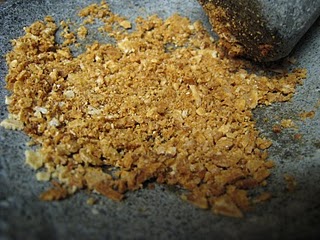 I have a special attachment to my mortar and pestle because I bought it in Indonesia.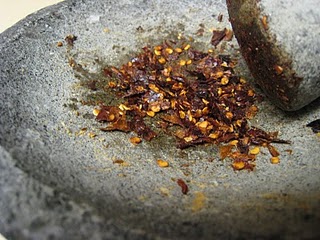 Add the garlic and chilies to your sauce and mix well.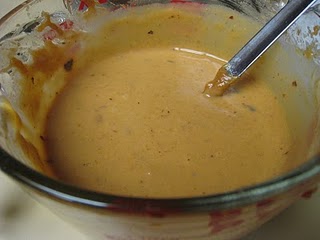 I made a big bowl of
peanut noodles
with this sauce. Too bad I didn't double the recipe and store some in the fridge for a week or so. Next time.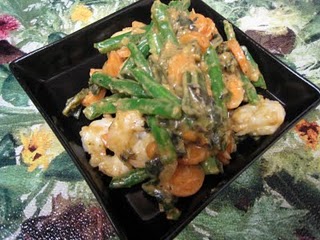 This is a quick peanut sauce. I personally enjoy making a traditional Indonesian peanut sauce, but that can take up to an hour. In just a few minutes you can have a delicious sauce, so I will cheat every now and then.
The heat in this sauce comes from the fire roasted peppers I bought from
Ollin Farms
. If you don't have peppers like these, you will need to substitute with chili peppers or hot sauce.
Ingredients:
1 TB peanut oil
1 small yellow onion, finely chopped
3 cloves garlic, minced
3 large fire roasted peppers, chopped
1/2 cup peanut butter (please use the real stuff- nothing with an ingredient list that goes beyond peanuts and salt)
juice of 1/2 lemon
1/2 cup water
2 TB soy sauce
In a sauce pan, heat the peanut oil to medium high heat. Add the onion and saute until golden brown. Add the garlic and cook another couple minutes, making sure nothing is sticking or burning. Then add the rest of the ingredients, one by one, stirring well as you go along. That's it for the sauce.
I added veggies to mine, and I prefer my fresh veggies to be more raw than cooked, I basically just coated some green beans from Ollin Farm and some local carrot (chopped) in the hot peanut sauce. I also sautéed some shrimp in peanut oil for 3-4 minutes and added them to the veggies. This is optional. You can add whatever vegetables you want, so, experiment.