Cranberry Poundcake Bread Pudding
One of my favorite desserts that Sean makes is pound cake. It's a simple cake that tastes just like childhood to me as I ate Entenmann's pound cake by the pound whenever my parents bought it. This twist on bread pudding using home made pound cake as the "bread," though really labor intensive, is a winner. Especially for holiday parties.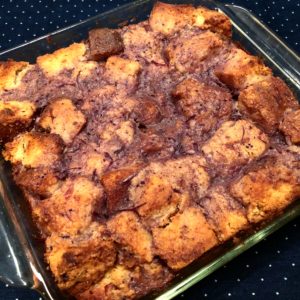 There are three main steps:
1- make a pound cake
2- make a cranberry compote
3- make the poundcake bread pudding
I'll walk you through these three steps.
Pound Cake
Ingredients-
1 cup unsalted butter
1 cup sugar
2 tsp vanilla extract
2 cups all purpose flour
4 large eggs
1/2 tsp salt
Directions-
Preheat oven to 350 degrees. Butter and flour a six cup loaf pan.
In a KitchenAid stand mixer, cream the butter and sugar together on a high speed. Add eggs one at a time, vanilla, and salt and mix until well combined. Turn the mixer to low and slowly add the flour until it's all combined.
Pour the batter into the loaf pan and bake for an hour or so until a toothpick inserted in the center comes out clean. Let it cool in the pan for 15 minutes before removing it from the pan to cool on a wire rack.
Cranberry Compote
The next step is to make a cranberry compote. Sean added a couple bags of frozen cranberries to a pan on medium heat like you'd start to make a cranberry sauce. He then added a little water, approximately 1/2 cup of sugar,  a handful of frozen strawberries, a handful of frozen blueberries, and some frozen raspberries. This will turn into a sauce if you let it simmer for 30-40 minutes. He added some orange zest at the end.
This part of the recipe can be adjusted to your likes. The addition of sweeter berries allows for a little less sugar and still makes the cranberry sauce really sweet.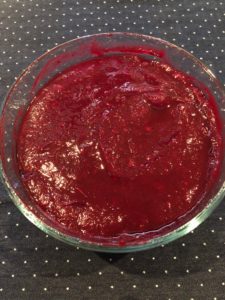 The final step is to assemble the bread pudding.
Cut the poundcake up into cubes and let it sit out at room temperature over night to get a little dry.
Cranberry Poundcake Bread Pudding
Ingredients:
1 loaf poundcake cut into cubes
2 TB melted butter
4 eggs
2 cups milk
1/2 cup sugar
1 tsp ground cinnamon
tsp vanilla extract
1.5 cups cranberry compote
Preheat oven to 350.
Put the pound cake cubes in a square pyrex baking dish and drizzle melted butter over the top.
In your KitchenAid stand mixer, combine the eggs, milk, sugar, cinnamon, vanilla, and cranberry compote and mix until well combined. Pour over the pound cake and lightly push down on it with a fork to be sure the bread is covered and soaking it all up. Let this sit on the counter for 45 minutes or so to be sure it has soaked up the mixture before baking for 45 minutes and has cooked through.
Chef Sean served food to Opera on Tap Colorado at Upslope Brewing Company, and he served this dessert paired with their Christmas Ale. Smear a little extra compote on the plate and a dollop on top and shove a fork in it!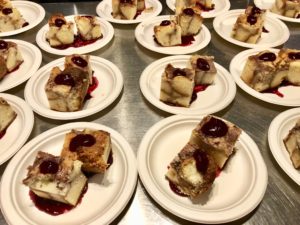 Enjoy!