We had the honor and pleasure of cooking Thanksgiving again this year for a really great family.
I bought a local turkey as I did last year from Long Shadow Farm in Berthoud, CO. Unlike last year when I arrived at the farm to find a woman seated at a desk in the garage near a large refrigerator distributing chilled birds to anyone who had pre-ordered, this year I walked into a slaughtering/de-feathering/cleaning of turkeys small-scale processing line that I was not expecting at all. Our bird hadn't even been chilled as she had been slaughtered just a few hours prior to pickup. Talk about having a real understanding of where our food comes from! I have that image seared into my memory… and will spare you the few photos I took.
We're very fortunate to purchase such a quality turkey, so it's extra important to me to serve it with all made from scratch accompaniments and sides.
I made the caramelized onion gravy base on Tuesday night. I've been making this gravy for more than ten years now, and each year I think it tastes better than the last. The butter and onions cooked low and slow for six hours. Six. Hours.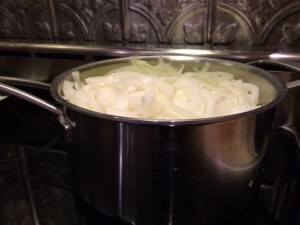 I started with a full pot and snapped a photo every couple of hours…
…until I couldn't resist spooning it into my mouth.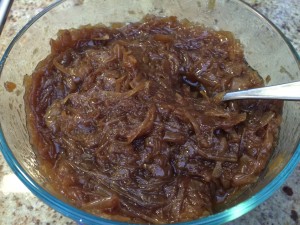 Wednesday I made my pumpkin pie, but failed to snap a photo. I also made a cranberry sauce with roasted shallots and mandarin zest.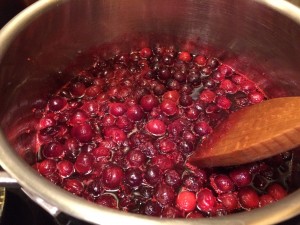 Thursday, Chef and I cooked the rest of the meal on site in their Boulder home. The beautiful bird went into the 325 degree oven after being rubbed with butter and herbs. She amazingly and somewhat surprisingly appeared done after just under two hours. That was a fast cooker!
I put together a wild rice stuffing while Sean made a sweet potato and chevre gratin, which has now become a Thanksgiving tradition for this family.
The ingredients in this dish are simply sinful- The health benefits of sweet potatoes are far outnumbered by the cheese and heavy cream combo. But, that's what makes it so GOOD too!
While the gratin baked, Sean worked on maple glazed carrots in a cast iron skillet.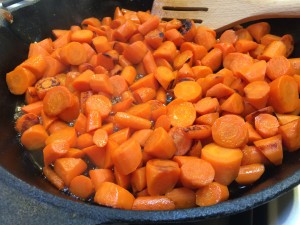 Next, he assembled green beans in shallot butter topped with fried shallots.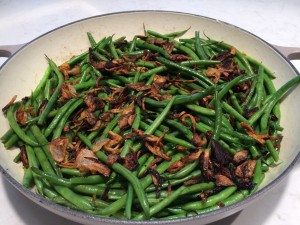 We added the pan juices to the gravy base, carved the bird,
And set up a small buffet for them.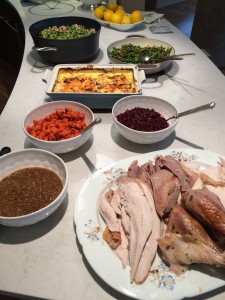 We can't wait until next year!
Sean and I had the honor and privilege of being flown down to Texas to cook for one of our clients. We've had the pleasure of cooking for them a number of times in Boulder, but never for their friends in Texas. After a brief discussion with the hostess, he planned a spring-themed menu. We had the interesting opportunity to shop in the enormous (which is an understatement) Whole Foods in Austin, drive out to a ranch about an hour away from the city, and experience the peacefulness of a Texas ranch during a few breaks in our marathon of a day.
We started with some h'ordeuvres: a cheese platter and smoked salmon toast points. I was in charge of the cheese platter and followed his directions on the smoked salmon toast points topped with chives and capers. These were ready for the guests upon arrival with a little bubbly to get the book club gals talking.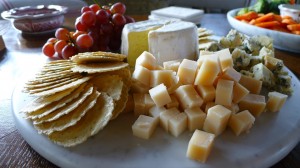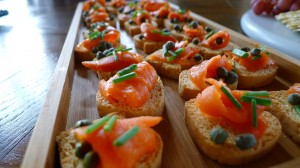 After a bit of nibbling and socializing, we steered our guests to the dining room for our first course: chilled pea soup with creme fraiche and mint.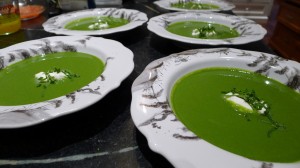 Our second course was an arugula, endive, and grapefruit salad in a citrus vinaigrette.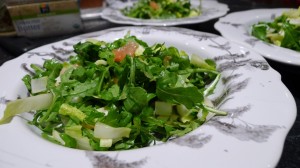 Our entree was a citrus brined chicken breast on risotto with grilled asparagus and a citrus olive relish. I must declare- the chicken came out perfectly. I ate an entire portion and had to show serious restraint to not dive into a second.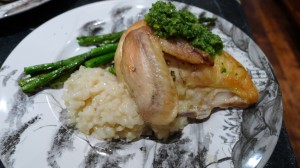 Dessert was a pound cake (I made it!) topped with hand-whipped cream and the last jar of Sean's Western Slope peaches in vanilla syrup that he had canned in Boulder last summer and brought with us to Texas.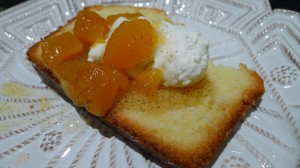 In the end, we had a fantastic time working together, hanging with the homeowners, and staying the night deep in the heart of Texas. We can't wait to do it again!
In case you haven't heard through the grapevine, A Bolder Table has teamed up with Sean Smith, a chef at Boulder's esteemed OAK at Fourteenth, and will be hosting monthly vegetarian dinner parties at my downtown Boulder loft. Once a month, we will be inviting six guests to join us for a unique dining experience. January 28, 2013, was our first.
Sean decided to give our first dinner an around-the-world theme, and treated all of his menu planning, prep, cooking, and plating as if he were working in a restaurant. That essentially means we had one of the best "home cooked" meals ever.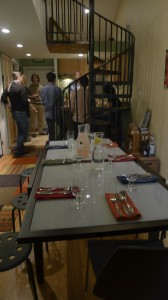 Our guests arrived by 7:30. There are rules guests must follow if they're invited to one of our parties, and rule number one is you must arrive between 7:15-7:30. Dinner service starts shortly after 7:30 and late arrivals are not allowed because they interrupt the chef's flow. The second rule is you must participate in social media (facebook, twitter, instagram, etc.) at least twice during the dinner. The third rule is the easiest to follow: Have fun.
And fun was definitely had by all. Sean invited his friends Lorraine, her fiance Jesse, and their friend Brian, visiting from NY. I invited Matt, who's not on social media so I think he broke one of the rules, Anne, and Tim. Together we made eight.
Our first course was Caponata and Bruscetta, which was, like every course, absolutely delicious.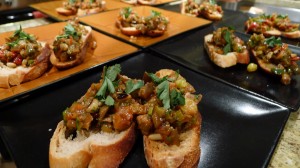 As soon as Sean told the table what we were about to eat, we all realized we weren't just at some fun, cool dinner party. We were dining in a private dining room with a professional chef who had put a lot of thought, energy, and love into a four course meal.
…and the wine was flowing…
Our second course was Coconut Curry Soup. Savory Spice Shop's medium yellow curry was the secret ingredient in this course and, if I'm remembering correctly, the table was pretty silent while spooning this into our mouths.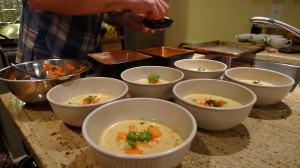 The third course was a cornmeal crusted red hot marinated tofu (which had been frozen, thawed, and pressed), creamy blue cheese polenta, and braised greens.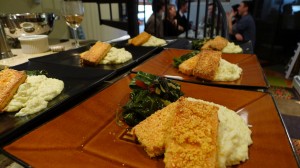 …and that wine kept being consumed… and stories… oh, man, the stories…
If I were just focusing on the meal, I'd say, "Finally, Sean served dessert." Or something like that. But this dining experience was so much greater than a group seated around a table eating fantastic food. This was a group who hadn't all known each other before but all eight of us came together in a way that forges friendships. Every one of us was so genuinely enjoying each other's company that our final course, an Earl Grey Pot de Creme, was just the end of the dining part of the evening before heading upstairs into my loft with a few more bottles of wine. And remember… what happens in my loft, stays in my loft, so that part of the story is left for you, dear reader, to imagine.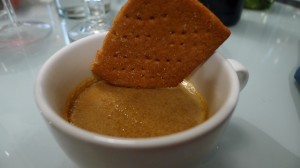 Sean and I will be holding monthly dinner soirees for the coolest cats in Boulder, and I'll be sharing photos from our events to tantalize your taste buds. Please email me at megan@localtabletours.com if you'd like a recipe for any of his courses.