How can someone love a
Vita-Mix
so much? The past 8 months have been so fantastic thanks to this workhorse of a kitchen machine. Every morning I drink a green smoothie that is made of oranges, lettuce or another leafy green like kale or spinach, and frozen blueberries or raspberries. It is simple and a very nice way to start the day.
Peaches are in season here in Colorado, so I am pleased to start the day with local, seasonal produce that hasn't been shipped in from Florida or California. This is my low carbon footprint breakfast drink that I'll enjoy until I bid farewell to my favorite fuzzy fruits…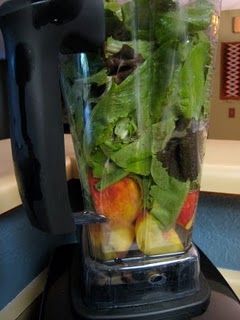 Into the Vita-Mix goes 2 or 3 peaches (pitted, of course) and as much lettuce as you can stuff in there. I have an heirloom mix I picked up at the
Farmers' Market
. Add a little water and some ice cubes if you'd like it cold. Turn it up to speed 10, then high, then enjoy.