So summer is over, but that doesn't mean that there still isn't amazing local produce to cook up. A few things I love doing this time of year, especially when the temperature drops down, is roasting what I can still get from the farmers market. One of my favorites is combining root vegetables with the slightly spicy chipotle pepper. There is something about the earthiness of root vegetables and the smoked flavor that chipotles bring that are a match made in heaven. Turnips and rutabagas work best for this but a few other choice fall veggies help to round out the side dish. This dish compliments most proteins, especially turkey which of course is going to be on everyone's plate in a few weeks!
ROASTED FALL VEGTABLES WITH CHIPOTLE
1 Medium Turnip
1 Medium Rutabaga
1 Large Parsnip
2 Large Carrots
1 Large Yellow Onion
1 Can of Chipotle in Adobo Sauce
Set oven to 375. Peel and dice the root vegetables. I like to leave them a little chunky but as long as they're uniformly cut they should roast up just fine. Next, toss the vegetables in a high heat cooking oil. You want enough oil to coat them but not to much where they get soggy. Then, and this is where the recipe can be changed depending on your affinity for spicy foods, toss the vegetables with at least 2 chipotle peppers and about a tablespoon of the adobo sauce. Don't worry if you think you've added to much, once the natural starches in the veggies convert to sugars while roasting in the oven it will taste delicious. And if you like things with some heat, add in a couple more peppers and sauce. Give a quick toss with some salt and spread out on a baking sheet. Bake until fork tender, about 30 minutes, mixing occasionally.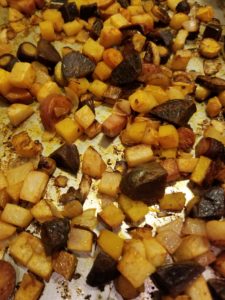 I also roasted a Kabocha Squash seasoned with Black Dust Coffee & Spice Rub from Savory Spice Shop.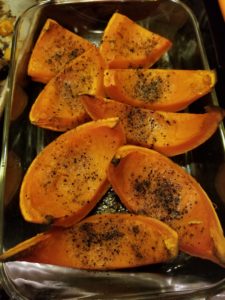 These two together make for a unique Thanksgiving side dish.