August is here and Palisade Peaches are in their prime. Last year Chef Sean made some vanilla bean syrup for his canned peaches, and they were some of our FAVORITE jars to open in the winter. Looks like we've now started a yearly tradition.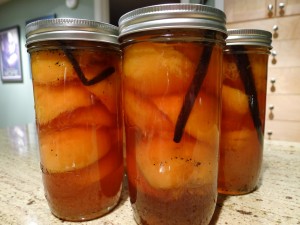 These peaches are pretty easy to make. This post here isn't the place to learn the basics of canning, so be sure to familiarize yourself with sterilizing jars, water baths, etc. if you've never canned before. I also don't have ratios and proper measurements… it's more of an idea for you home canners to try.
First, Sean made a vanilla bean syrup by boiling equal parts sugar and water with a couple vanilla beans that he sliced in half long-ways and scraped out the beautiful caviar-like black beads. He let this reduce and cool completely.
Next, the peaches were blanched, which means boiled for a few minutes and then plunged into an ice bath. This allows the skins to be easily removed.
When cool to the touch, he sliced them in half and removed the pits, stacked them in jars, covered them in syrup, and processed them in a water bath for 15-20 minutes. After removing the jars from the boiling water, set them somewhere and allow them to cool. You'll hear the pop of the lids after a little while, letting you know they're properly sealed. Store in a cool place until winter.
Enjoy!