I don't know if I'd ever been as full upon walking into a restaurant as I was when Allie and I spur-of-the-moment decided to check out The Populist. We had been out to lunch at Rooster and Moon and had some more time to wine and dine before she headed to work, so we stopped in to The Populist for a cocktail. As soon as we entered the gorgeous space we knew we had to order at least one bite of food, and you'll know what I'm talking about if you've been there before. It's inviting.
I adore their menus, first of all. That's usually a pretty good sign. Not always, of course, but when so much attention to detail is shown on paper, there's a good chance it's being achieved in the kitchen as well.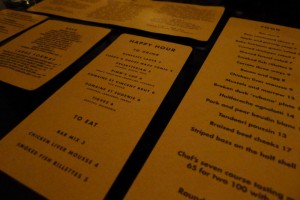 Rob Corbari, the head tender of my favorite spot, the bar, made us some cocktails. This man has a beautiful bar. Simply gorgeous.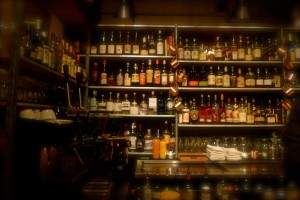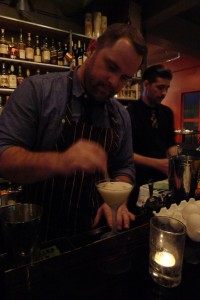 Allie had a Whiskey Sour and I sipped on a Presbyterian, which was Bourbon, ginger, and soda.
Let me just say that this is in no way a real restaurant review- It was such a brief visit and we were so blown away with this place that I'm going back- soon- for a full meal, photos and all. This is just a teaser…
Rob suggested we try the apple and parsnip soup with jalapeño caviar. He knew we weren't hungry, so he assured us there was no cream or crazy buttery goodness going on in this soup. I'm having a hard time believing him- This was one of the most decadent soups I've had. I hope it's still on the menu when I return. Also, they poured the soup table-side, which is a presentation I enjoy very much. I had to include a photo of that even though it's blurry. Sorry folks, but, you get the idea.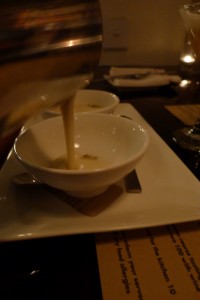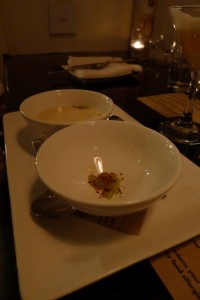 Next, we nibbled on smoked trout rillettes with mustard, red onion, pickled cucumber, and capers with creme fraiche on pancake disks. Wow. This was a seriously nice plate and we were completely stuffed when Rob, sneaky tender that he apparently is, placed one more order for us…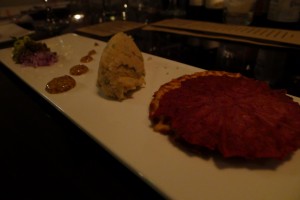 No matter how full we were, there's no way we could resist devouring a poached egg on top of a bacon apple jam with lardo toast (or something like that… I think I went into a food coma and blacked out, so my details might be slightly off…)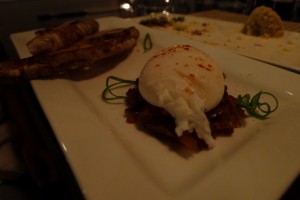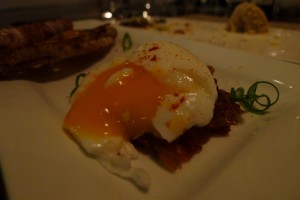 But, I discovered my new favorite place and I'll be back soon with an appetite, camera, and hopefully a designated driver.
The Populist- Kitchen and Bar
3163 Larimer St. Denver
720-432-3163