As every single one of my tour guests hear, Riffs is one of my absolute favorite places in Boulder. After one of my cocktail tours, Sean and I got together for our third night (in a row) of Boulder Passport debauchery. Two of my cocktail tour guests had returned there for dinner as well, and they were fellow passport holders, so that essentially means they're hip and have good taste 🙂
Riffs is offering The Ruby Sipper, a barrel aged cocktail, that is finished with a flamed orange. Nice touch.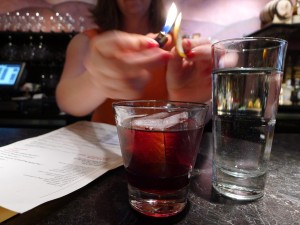 Sean, my chef (you all know he's actually one of the best in town, right..?), was planning on cooking for us that evening as it was his night off from Zeal, so we got a couple appetizers. We ordered their green pea hummus, which I get almost every single time I eat there because it's one of my favorite bites in Boulder…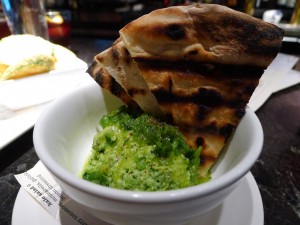 We enjoyed a seasonal menu item: Cornmeal Fried Zucchini. I loved this dish last summer, so I'm glad Chef Platt brought it back.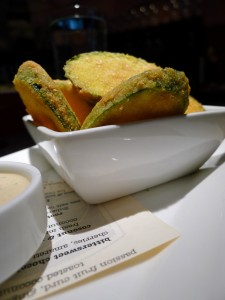 And all of those former menus they place between plates and other dishes had been sliced by one of my favorite servers that afternoon. Reuse, then recycle. I like that, too, about Riffs.
After our snacks we were ready to visit two more places that evening…