Shortly before heading off on our honeymoon to ski in southern CO and Taos, NM, we posted about our upcoming trip on Facebook. Our dear friend Grace, esteemed blogger of Grace(full) Plate, emphatically suggested The Love Apple, so we added it to our dining itinerary.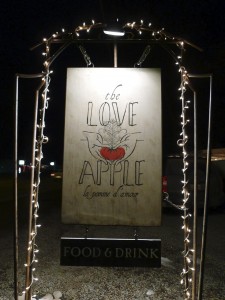 The Love Apple, another name for the tomato, is located in an historic Catholic church that was built in the early 1800's. You enter a beautiful courtyard and are greeted by a blackboard introducing you to the local farms, cheese makers, and other purveyors. Signs like this make me excited to dine, so before even entering or looking at their menu, I was enlivened by this place.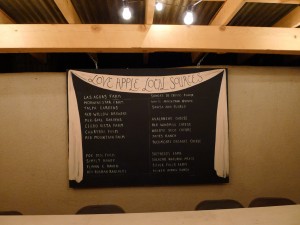 The menu has something for everyone, and the wine list is well above average. We ordered a couple glasses of wine while deciding on our food and which bottle of wine we were going to order. Our first shared dish was the Sangre de Cristo Flour Tortillas, made in house daily with locally sourced flour. These were delicious, served with harissa, homemade creme fraîche, and cilantro lime relish.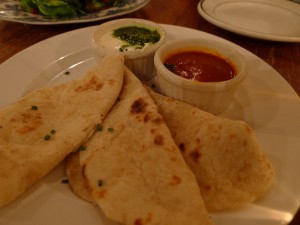 Next, we shared two salads: the Raw Beet, Avocado, and Southwestern Ruby Grapefruit Salad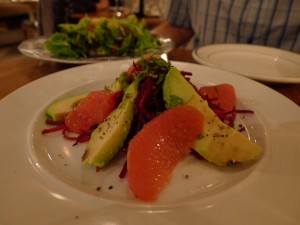 And the Local Green Salad with Pomegranate, Pecans, and Warm Goat Cheese.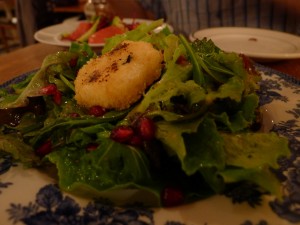 Both salads were first and foremost nutritious and delicious, but the combinations of ingredients was inspiring. I especially enjoyed the breaded and fried goat cheese disk and, though I see it infrequently, never tire of this particular presentation.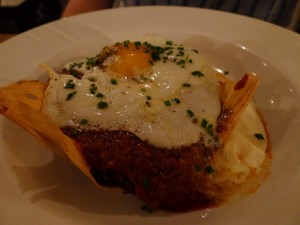 For an entrée, he ordered the Housemade Baked Tamale and Oaxacan Style Mole which was a tamale filled with sautéed local greens and sweet corn, topped with red chile mole, a fried egg, and creme fraîche. He loved the combination of flavors, thought the mole was exceptional, and thought the egg was perfect and made a nice addition.
I went with the Grilled Ruby Rainbow Trout, which was served wrapped in a corn husk with lime compound butter. It was topped with chipotle creme and rested on top of a quinoa-piñon fritter (hiding behind the tail and missed by my camera), and cilantro lime relish.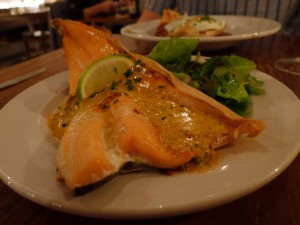 I ate every single bite of food on my plate. The fish was perfectly cooked and moist, the fritter was a fun way to have grains on the side, and Sean's wine choice was a superb accompaniment.
This charming old church was such a peaceful setting for dinner, I opted in to dessert. The theme of The Love Apple seems to be "house made," so when I heard of the housemade spiced chocolate gelato, I said, "Yes please."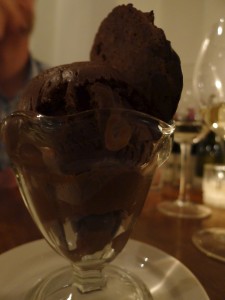 Thank you, The Love Apple, for being an oasis of great food amongst a dessert of mediocre food in the southern CO, northern NM region. We'll certainly tell everyone we know visiting the area to enjoy a meal from your kitchen.