Boulder Granola
Let's talk about granola. I am not really a fan of it. There's something about granola that turns me off. Maybe because it's associated with hippies. Maybe because people seem to think it is healthy when it is generally laden with sugar, fat, and calories… definitely not the "diet" food it often pretends to be. Maybe I don't like it because Boulder, CO, is the butt of some jokes about hippies, health, and granola.
Whatever my personal issues with granola are, or have been… I found a brand I happen to love. I mean that. I love this granola.
Boulder Granola
, to be more specific, and, in case you need me to spell it out… it is made right here in beautiful Boulder, CO.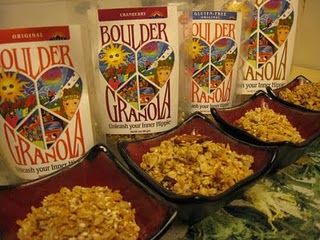 Boulder Granola will definitely satisfy all you granola-lovers out there. This 45 year-old family recipe is worth tasting, and I tried Original, Cranberry, Gluten-Free, and Chocolate. I enjoy having this stuff in my house because it makes a great snack. Everyone who knows me well knows I live off of Vitamix veggie smoothies all morning and afternoon. So, I enjoy indulging in the evening, and Boulder Granola definitely satisfies my craving for something sweet (sweetened with maple), fulfilling, and organic.
This granola has a nice light crunchy texture and is just perfectly sweet. I would be incredibly happy with a lifetime supply of the Chocolate Chip Granola, as I tend to eat this stuff in the later hours of the evening. The Cranberry granola reminds me of my dad, so I'll be sending him a package for him to try. The Gluten Free variety is fantastic and uses certified gluten free oats which are processed on equipment for certified gluten free grains.
You can sample some at the Boulder Farmers' Market on Wednesdays and Saturdays. Or, go ahead and buy some online. Give it a try and, as their tagline says, "unleash your inner hippie."