The Publican is a meat-centric James Beard Award Winning establishment in the meatpacking district of Chicago. Not necessarily a great choice for vegetarians, but absolutely worth a metro ride out to this neighborhood that still clings to it's meatpacking past of warehouses, wide streets, and the stench of fish from a  loading dock floor that maybe wasn't hosed down too well with bleach the day before.
This is a place that takes itself very seriously, and their attention to detail was impressive. The interior design, service, sourcing of product- every single thing was well done in what I could tell from our hour or so experience sitting in a booth that resembles a hog's pen, with a chest-high door shutting us in and all. Pig paintings decorate the walls, and they have their own butcher shop across the street: Publican Quality Meats. We definitely weren't in Boulder…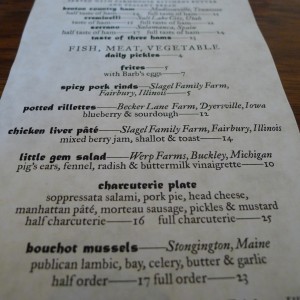 Like all great places nowadays, local farms are highlighted on their menu so you know exactly where that Little Gem Salad is coming from.
We started off with beverages, of course. (Sean and I can be a couple of one trick ponies)
I tried a cider, and he went for a flight of rosé. When the flight arrived, I asked our server to please place it down for a photo before unstacking the unpretentious wine glasses. For me, this presentation was another nice touch. The Publican has beer glasses to match every beer, but wine, on the other hand, not so much. Rocks glasses for wine, totally rocks.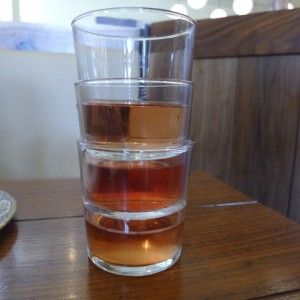 Not being incredibly hungry, we went with a cheese board and a Werp Farms Little Gem Salad. We had just eaten a Werp Farms Little Gem Salad at the Green Zebra the night before, so we decided to compare…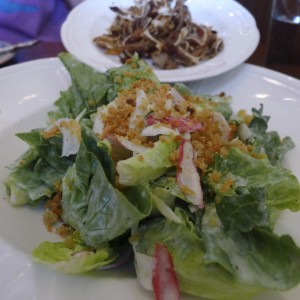 You can't even compare the two salads. The Publican fills a plate with Little Gem lettuce, fennel, radish, buttermilk dressing, and fried pig ears (which we got on the side).  Green Zebra, unfortunately, skimped out on the little gem lettuce and essentially mis-labeled their dish. But anyway, back to this amazing salad. I had never had pig ears and he insisted I try them, so we got a pile of thinly sliced, fried ears on the side rather than in the salad.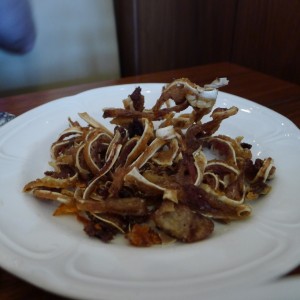 I didn't like them at all. Sean swore they were amazing, but the flavor wasn't something I really wanted to linger in my mouth. I'm just not too adventurous about eating animals, that's all.
But cheese, on the other hand… I could eat cheese all day. Especially when presented like this-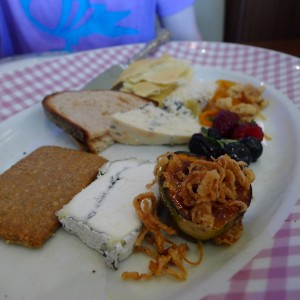 I really wasn't on my game this particular day after my first night in a new city, where we were up before dawn to fly at 6 am, and learned they have a 4am last call at some bars, so I'll admit to having no idea what cheeses and accouterments we enjoyed. But, it doesn't really matter because The Publican is a place that frequently features different cheeses, etc., so whatever you enjoy on your cheese board will be completely different from my mid-July experience. Just know it will be good. Really good. Amazing, I dare say. Go now, Go often.
The Publican
837 W Fulton Market
312.733.9555