This might be my new favorite dessert, and with a Vita-Mix, it takes seconds to make… and even less time to scarf down and enjoy!
I didn't have a plan for dessert, but had 1 cup cooked brown basmati rice left over from dinner, some homemade peanut butter from dry roasted Valencia peanuts, and Mayan Cocoa powder from
Savory Spice Shop
. Turns out those ingredients blend into a fantastic vegan pudding.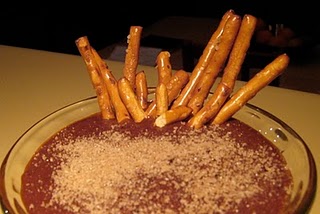 Here's what I did-
I made 1 cup of
rice milk
with the leftover rice (which was cooked in water with no added herbs, etc.). Then, into the
Vita-Mix
went 1 cup homemade peanut butter, 2 very ripe bananas, 1/2 cup Mayan Cocoa, and 1/4 cup maple syrup.
Blend this on high for just a few seconds, pour into smaller dishes, and chill to allow it to set a little like a pudding. I sprinkled some Spiced Vanilla Bean Sugar on top (which, of course, you'll find at Savory Spice Shop), and added a few pretzels for crunch. Otherwise, it would be gluten-free. I ate so much of this…
The chile peppers, cinnamon, and vanilla in the Mayan Cocoa go really well with peanuts, and the vanilla, cinnamon, allspice, mace, and cardamom in the Spiced Vanilla Bean Sugar pulled the whole thing together. Looks like I'll have to keep Mayan Cocoa on stock from now on.