I was really glad to stumble upon this recipe posted on
The Bad Girl's Kitchen
for this month's
Taste & Create
because I had some of these famous Aussie Bites a couple years ago. I liked them so much that I wrote down the ingredients from the package and that little piece of paper has been in my kitchen drawer ever since.
So, I took out that paper, compared it to the recipe posted, and adapted it a little according to what I had in stock. I think they turned out nicely.
Here is my ingredient list:
1 cup whole oats (I toasted mine for 10-15 minutes on a baking sheet while preheating the oven)
1 cup oat bran
1 cup whole wheat flour
1 cup unbleached white flour
1 cup grated coconut (unsweetened)
1/3 cup sunflower kernels
1/3 cup dried cranberries, coarsely chopped
1/3 cup dried apricots (I had some California apricots) coarsely chopped
1/4 cup raisins, coarsely chopped
12 TB ground flax seeds
1/2 cup evaporated cane juice
1 TB cinnamon
1 cup heavy whipping cream
1/2 cup honey
3 eggs, beaten
1 cup warm water
1 tsp baking soda (I live at high altitude, so I used 3/4 tsp baking soda)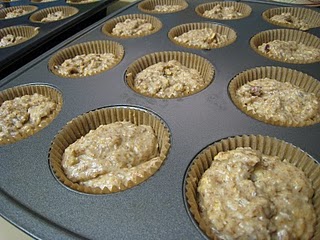 Combine all of the dry ingredients in a bowl except the baking soda.
In a large measuring cup, measure 1 cup of cream, add the honey, and slowly mix with a wire whisk until well combined. Then add the eggs and mix until combined. In a separate measuring cup, combine the warm water and baking soda. Let this cool a few minutes before adding it to the cream, honey, and egg mixture. Mix well, add to the dry ingredients, and pour into muffin pans.
I don't have mini-muffin pans…yet… so I used regular muffin pans and lined them with unbleached baking cups from
If You Care
. My Aussie Bites took 20 minutes to bake.
They came out delicious, and I will play with this recipe in the future to make a few variations.