When our local Whole Foods ripped out it's prepared foods counter to install a Beyond Meat Burger Bar, Sean and I took a look at these veggie patties and decided to pick some up for our July fourth BBQ. Would we buy them again? No. Not a chance.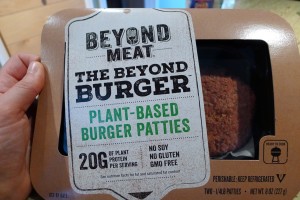 These pea protein burgers are in the freezer section, and they look very much like ground beef. Once you get through the packaging, they're VERY similar in appearance to beef.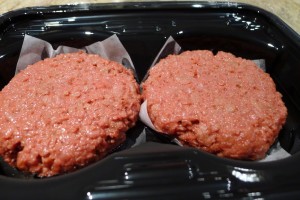 They're juicy, unlike any other veggie patty I've seen. Beet juice makes them red, and it allows them to "bleed" when you bite into them. That's where this company lost me as a potential consumer/customer. I enjoy veggie patties that function like a burger in the sense that they stick together and can be on a bun with toppings. If I wanted the meat-eating experience, I'd eat a real burger. But, we gave them a try…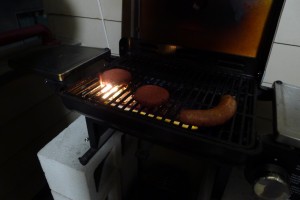 We thawed them and followed grilling instructions. These patties have coconut oil, which makes the grill flare up as soon as they go on. Personally, I'm not on the coconut oil bandwagon and don't easily succumb to food trends, so, though it's smart to add it for the grilling experience, it's a bit gimmicky to me. The chicken sausage from Whole Foods on the right of the grill was my dinner for the night, by the way.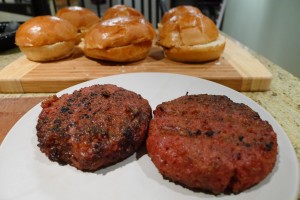 The Beyond Burger grills up to really look like a burger.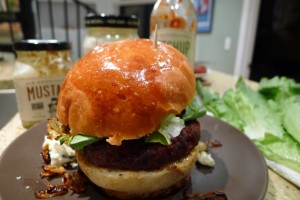 Chef dressed one up with all of the Sir Kensington's condiments we had in the house as well as some romaine, blue cheese, and caramelized onions. It looks like a burger, kind of tastes like a burger, but isn't a burger. It's a highly processed food item designed to look like one of the "sexiest" things you can indulge in. A Hamburger. So, this is where they've completely lost me. Why do we Americans need to create food items that resemble things we enjoy eating, but make them "healthy" by making them vegetarian, vegan, gluten free, or paleo? I'm going to stick to a balanced diet of mostly vegetables with an occasional indulgence in meat, seafood, chicken, or turkey. And, chef and I will continue to make home-made veggie patties when we're feeling like a burger at home.
Beyond Meat has "chicken" strips, tenders, burgers, and crumbled "beef" all made of veggie protein. While I agree whole-heartedly that we should consume fewer animals and animal products, I don't think that needs to be highly processed, packaged, and made to resemble the animal protein we're eliminating or cutting back on for the time being. Why can't a vegetarian stir fry have just veggies and rice in some amazing spice or sauce? Why does it need to include a fake piece of chicken that looks and almost tastes like chicken? Just as weaning your way off of sugar and chocolate bars will eventually cut your sugar addiction, eating more of and enjoying more whole foods based meals will change your eating habits and preferences. Give it a try. I dare you.