So, it's official. Cheese dinner nights are my new favorite nights and I sincerely hope to entertain a number of my friends over the course of the next few months (until forever…?) with unique cheeses I purchase at Cured in Boulder.
My buddy Joe came over to be "spoiled" with my cheese, bread, wine, and seasonal veggie dinner. I bought some beautiful golden beets, carrots, and heirloom tomatoes from Ollin Farms and got the beets wrapped up in foil and roasting in the oven at 400 degrees well before Joe showed up. I chopped the carrots into bite sized chunks and roasted them with a sliced onion drizzled in olive oil, salt, and pepper. While the root veggies roasted, Joe picked up my flip video camera.  Here's how the night got started…
I bought three cheeses at Cured: Fleur Vert (in the front), a French goat cheese covered in herbs de provence and red peppercorns; Délice (middle), a tripple cream cow's milk cheese; and La Tur (in the back), an Italian cheese with a "trifecta" of milks: cow, goat, and sheep.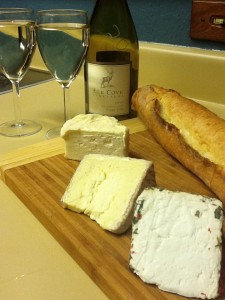 These three cheeses were nothing short of fantastic and I'm almost tempted to recreate this entire experience for all of my friends.  But, that would really halt my exploration, now wouldn't it?
As I look through The Murray's Handbook and The Cheese Chronicles, it is becoming more and more clear to me just how many cheeses there are.  Neither of the cheese-filled books talk about Fleur Vert. It is a goat cheese covered in herbs de provence and red peppercorns, and it's not technically a chevre, but can be thought of as a slightly aged chevre (apparently chevre is a fresh cheese, not aged). It is spreadable, especially on warm bread, and the herbs and pepper combination is savory on top of the sweet, white goat cheese.  This also went especially well with the roasted beets.
The Murray's Handbook eloquently refers to Délice as" a tiny treat of pale buttercup" that is "rich and luscious, with the texture of whipped butter."  It is.  It is.  We spread this on the warm baguette and practically giggled like school kids at this experience.  This is an amazing cheese with a mild flavor, like a European butter, and it is addictive.
The third cheese, La Tur, is also featured in The Murray's Handbook.  It says, "three milks and two textures merge into one cheese's best approximation of ice cream."  Joe and I refered to this as the trifecta cheese- a power-house cheese made of three milks.  It's a must-try.
I bought a bottle of Pinot Gris from Elk Cove Vineyards in Willamette Valley, Oregon.  As usual, this Oregon wine did not disappoint.  It was crisp, just sweet enough, and refreshingly cut through the fat from all this cheese.  And, Joe and I always appreciate that first sip… "once it hits the lips…"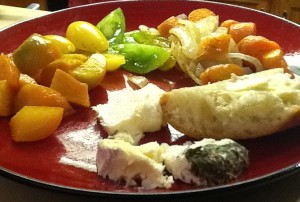 Overall, it was a fantastic night.  We had roasted golden beets marinated in Persian Lime Olive Oil and Peach Balsamic from EVOO Marketplace, roasted carrots and onions with cumin, fresh heirloom tomatoes that didn't need even a pinch of salt, toasted bread, and cheese.  By the time the second bottle of wine was opened, I started sautéing some local pears in butter.  But… we devoured those before I even thought to snap a photo.