I like making "egg bakes." They're not frittatas, not Spanish tortillas. Just a bunch of stuff mixed together and baked. You can make them as healthy or fattening as you like. I usually opt for the healthier versions, like this one.
I started by sautéing a yellow onion in a little olive oil. After a few minutes, I added a sliced pepper and let this cook a bit. Not too much- 5 more minutes or so.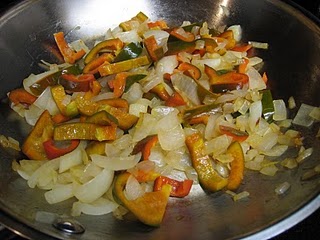 Meanwhile, I made some red quinoa. Quinoa is simple- one cup rinsed quinoa to 2 cups boiling water. It takes approximately 20 minutes simmering on low and it's done. A complete protein in a super cool ancient grain.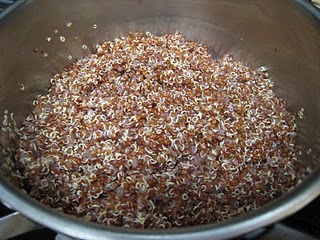 I beat 8 farm fresh eggs and added 2 tablespoons of Worcestershire sauce and 2-3 tablespoons of olive oil.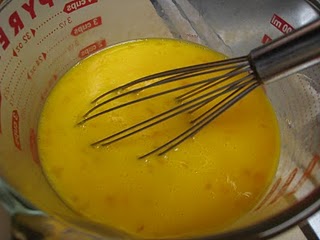 Then I mixed it all in a bowl, added some fresh ground pepper, 1 cup grated white cheddar cheese, and some chopped fresh spinach.
Then into the oven at 375 for 40 minutes or so. Covered for the first 30 minutes, then uncovered to let extra moisture cook off.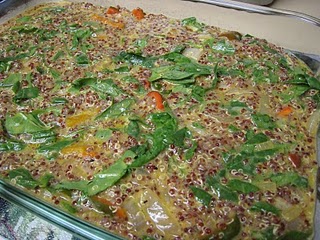 Then I let it cool a bit. Serve it with toasted bread, extra cheese, sliced tomato… whatever you like.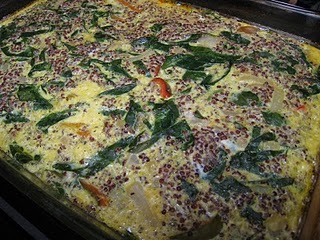 It's a great meal and is also great the next day, so I like to make egg bakes when I anticipate being too busy to cook dinner the following day. The possibilities are endless. What combinations do you like in egg bakes?