Call me old fashioned.  But, when he calls me at 9 pm to say he's coming over, I naturally ask if he's eaten.  When the response is "no," I think it's time to get cooking. Nine pm is generally considered late to start cooking, so I decided to make something simple with whatever I had in the kitchen.  In this case, for my eighth dish in my 14-part series (or challenge:) of giving him a taste of how much I care, I made roasted sweet potato and carrot coconut soup topped with coconut baby bok choy. With a name so long, it might sound like a complex dish, but it was simple and delicious.
Here's how I made it-
I started by roasting two garnet yams (peeled), four carrots (also peeled), and a sliced shallot in a tablespoon of coconut cream (or fat- the thick cream at the top of an undisturbed can of coconut milk) and a few tablespoons of maple syrup.  This took approximately 30 minutes in a 400 degree oven.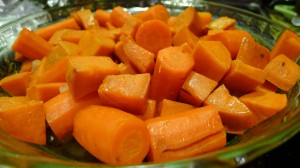 When the yams and carrots are easily pierced with a fork, remove them from the oven and let them cool for 15 minutes or so.  Meanwhile, skim off the rest of the coconut fat and separate it from the clear water. I LOVE this white temptress. I could eat it with a spoon.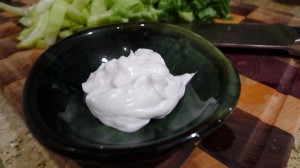 Next, coarsely chop the baby bok choy and separate the leafy greens from the celery-like stalk. Chop a little red onion (maybe 1/2 cup), and you're ready to assemble the meal.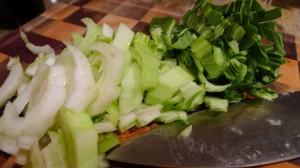 Put the yams and carrots, the rest of the coconut water, and enough broth (veggie or chicken) to cover the yams into the Vitamix.  Blend this into a perfectly smooth puree (it just takes a few seconds in my favorite 2 horse-power toy).  Pour this into a stock pot and simmer on medium high.  I seasoned it with some cinnamon, cayenne, Vietnamese Sweet Lemongrass Curry (a Savory Spice Shop original), and soy sauce.  How much of those ingredients did I add? I don't know… a little of this, a little of that. I'd say season to your liking.
While the soup was heating, I added the last dollop of coconut fat to a pan on medium high and started to sauté the onion.  When that was translucent, I added the stalky part of the bok choy and got that soft before adding the chopped bok choy leaves. Then a splash of soy sauce, and it's done.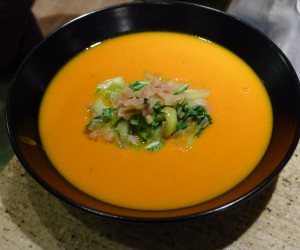 Top the soup with coconut baby bok choy and enjoy.