Roasted Beets and Chevre
Roasting beets really makes them taste better. If you think you hate beets, try roasting a few, and then decide. I think you'll be pleasantly surprised.
Roasting beets is simple. I prefer smaller beets because they take less time to roast. Preheat the oven to 375. Wash the beets and cut off the long root-tail if they have one, just to make them all basically round.
Drizzle them in olive oil, wrap them in foil, and roast for 30-60 minutes, depending on the size of the beet.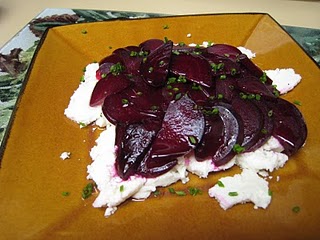 Remove them from the oven when they are completely softened and let them cool. When you can touch them, remove the skin, slice them, and enjoy. I made a salad with
Haystack Mountain Goat Dairy's Boulder Chevre
, a little olive oil, champaign vinegar, and freshly chopped chives.