Three pounds of yellow onions really break down to be not too much after 1.5 hours of caramelization. But, all that time spent stirring and checking on them is worth it. Trust me.
Every year for my Thanksgiving gravy base, I hang by the stove, diligently stirring a pot of gold.  The onions will turn into a beautiful pot of gold if done correctly, and it takes so much time, this pot is as valuable, time-wise, as a pot of gold.  I suggest you give it a try.  You can also scale this down for smaller meals and use it as your secret weapon gravy base.
This year I started with 3 pounds of thinly sliced locally grown Colorado sweet yellow onions. I put them in a 4 quart stock pot, knowing they'd end up as a splash in the pan once caramelization took over.  Start with the heat up at medium-high and add two sticks of butter.  Let this start to sizzle. You want to hear it doing something.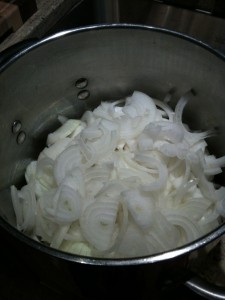 Give it a stir every few minutes and let the butter melt. Then, turn down the heat to medium and keep coming back and stirring… and stirring… and stirring.
This is going to take some time, so plan to spend over an hour in the kitchen. Multi-task if you can because it really is a long time to spend looking over one single pot.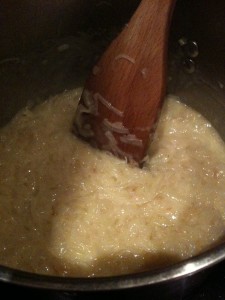 There eventually comes a time I call a "crucial moment" in the caramelization process because if you get bored and leave, your onions are going to burn. Trust me. As they turn into golden brown deliciousness, start stirring them more frequently. They'll eventually be a gorgeous pot of gold. So get them off the heat.
Next, stir in 1/4 cup honey, 1/4 cup balsamic vinegar, a couple teaspoons of fresh thyme and a teaspoon of minced fresh rosemary.  Mix everything really well and taste it to be sure the vinegar cuts through the fat from the butter. You might find that it needs a little more vinegar and a dash of salt.  But, remember that this is just the base for your gravy, so all of those flavorful pan drippings are going to add a rich complexity to this somewhat straightforward caramelized onion base. This can be made in advance, refrigerated, and put on the stove with pan drippings when you're getting ready to serve the bird.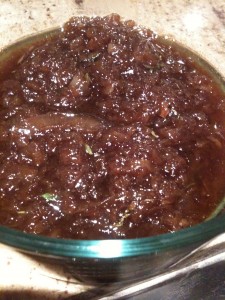 Enjoy in moderation!