As I mentioned in my blog post about my Piedra Azul cocktail- La Última Palabra– A Bolder Table was invited to participate in a Dip and Sip Challenge featuring Piedra Azul Tequila and Avocados in honor of National Guacamole Day, which is September 16. Sean and I had plans to invite friends and have a little soirée in our loft, but then Boulder suffered through a 100 year flood, making roads impassable.  In fact, we were asked to stay put so only emergency vehicles were on the road, and at the time of this posting, we're still under a flash flood warning. So, needless to say, there was no fiesta with the $25 gift card we received to Whole Foods nor with the bottle of Piedra Azul Tequila. It was just the two of us, tequila, and avocados.
Before the flood of the century, I had plans to go to the Boulder Farmers' Market for all of the ingredients I couldn't purchase at Whole Foods. That, unfortunately, didn't happen because the market was canceled due to flooding. Most of the farms, in fact, were totally wiped out, so I'm not even sure we'll have a market for the rest of the season. But, disaster aside- plans changed. When life gives you lemons, make lemon-aide. When Piedra Azul gives you avocados and tequila, make guacamole and libations. It's simple, sometimes.
When there was a break in the rain we rode our Linus bikes (couldn't resist the plug) to Whole Foods to grab some Hass avocados, Haystack Mountain Boulder Chévre, and a few other ingredients to make an avocado dip to pair with my tequila tail and some veggie fajitas that the chef planned for dinner after working a ten hour shift at OAK.
The Dip and Sip Challenge is straightforward: Create a unique avocado dip and tequila libation. We received a $25 gift card to Whole Foods, a bottle of Piedra Azul Blanco Tequila, and Gaby Dalkin's cookbook Absolutely Avocados.
When I lived in Santiago de Chile, I ate avocados every single day. After moving to Boulder and seeing a $2-$3 price tag per avocado, I pretty much made them a food specialty item in my kitchen. So, I was eager to accept the challenge, the gift card, and the cook book since I absolutely LOVE avocados. Disastrous flooding canceled our party, but the bright side is Sean and I had two days of serious avocado indulgence, which is not custom in our home.
Sean made a caramelized onion chipotle chévre guacamole for dipping with chips and spreading on fajitas. The recipe is straightforward:
Caramelize a yellow onion in olive oil. If you've never caramelized an onion before, it's easy. Slice them thinly and add them to a hot pan with olive oil. Turn down the heat and let them slowly turn brown over 30-40 minutes, agitating them occasionally.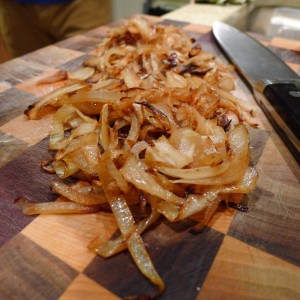 The caramelized goodness went into a food processor with a log of locally made Boulder Chévre and a couple chipotle peppers from a can of San Marcos Chipotle Peppers in Adobo Sauce purchased at Whole Foods.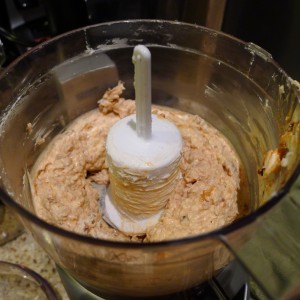 While Sean sliced the avocados, I had a giddy-as-a-school-girl-look on my face. But, we have no photo of that. Just the aguacates.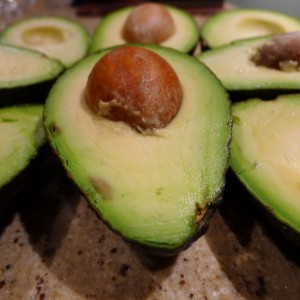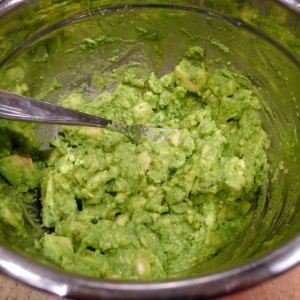 The final steps are simple- add the caramelized onion chipotle chévre mixture to mashed avocado, add Meyer lemon, French sea salt, Aleppo Pepper  to taste (recall those ingredients from my cocktail?), and mix well.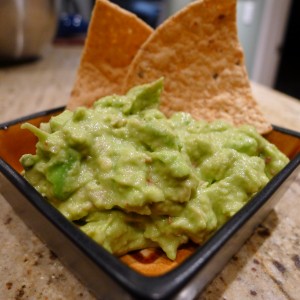 We enjoyed the dip with chips, and with veggie fajitas topped with locally made White Girl Salsa and Sean's Habañero Hot Sauce.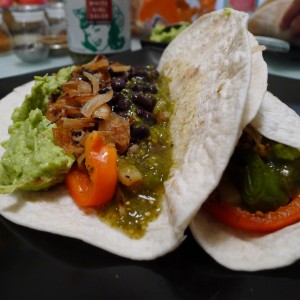 This was a fun challenge for both of us. We learned some interesting facts about avocados from Gabby's book, were both challenged to create something new, and had a great dinner for two as a result.
¡Buen Provecho!