Here's one of my favorite Moosewood recipes.  They're called "Sweet Pumpkin Cookies" in their New Classics Cookbook, and I've been baking them for years. As it's pumpkin season, I picked up a local pie pumpkin and roasted it for this recipe rather than purchase canned pumpkin. Here are Moosewood's ingredients.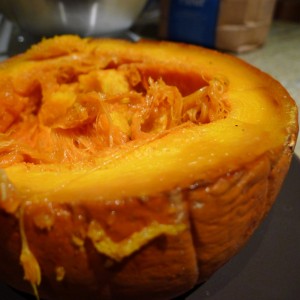 Ingredients:
1 cup butter, at room temperature
1 cup sugar
1 cup pumpkin purée
1 egg
1 tsp pure vanilla extract
2 cups unbleached all-purpose flour
1 tsp aluminum free baking powder
1/2 tsp baking soda
1 tsp ground cinnamon
1/4 tsp ground allspice
1/4 tsp salt
1 cup chopped toasted peanuts
1 cup raisins
1/2 cup chocolate chips
I made a few changes for this batch- rather than one cup of sugar, I used 3/4 cups evaporated cane juice and 1/4 cup maple sugar, I used 1/2 cup peanuts, and skipped the raisins. I like the addition of maple sugar (which you can find at Savory Spice Shop) because maple makes most things better.
Preheat oven to 375
In your KitchenAid mixer, cream together the butter and sugar. Then add the pumpkin, egg, vanilla, and mix well. In another bowl, sift the flour, baking powder, baking soda, cinnamon, allspice, and salt. Add the dry ingredients to your mixer and mix until a gorgeous batter is formed. Mix in your nuts and chips, and be patient- don't eat it all raw.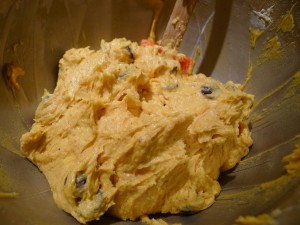 Drop by spoonfuls onto an ungreased baking sheet and allow a little space for the cookies to spread while baking. Bake for 10-15 minutes, until they're slightly brown on the bottom. Transfer to a cooling rack, and dig right in.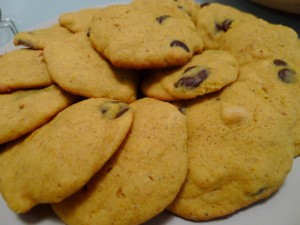 These cookies are very flaky and I often refer to them as delicate. They'll store better in the fridge than in a cookie jar on the counter.