Chef asked me to swing by the Munson Farm Stand for a Cinderella pumpkin he could roast and preserve for the winter. I LOVE pumpkin, so I was really happy he wanted to preserve some this year. I usually buy a few pie pumpkins to make my pumpkin peanut curry soup, and they're much smaller- maybe smaller than a soccer ball. The selection of Cinderella pumpkins at Munson's Farm Stand was impressive, and this one was larger than two of my heads put together.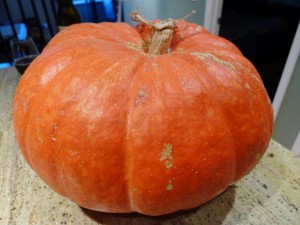 Sean almost effortlessly sliced it in half. I would have needed a saw, I think.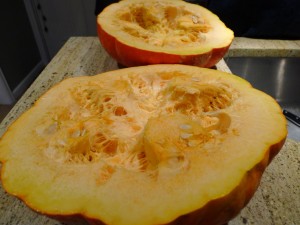 Scooped out the seeds…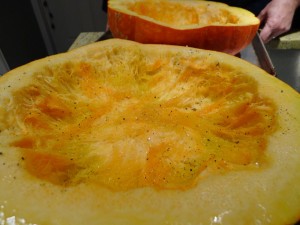 Drizzled olive oil on top and then some salt and pepper…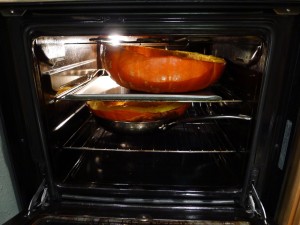 And then they BARELY fit into our miniature oven. We live in 600 sq ft, and our kitchen appliances reflect that. But, we shoved it in there and made it work.
It roasted at 450 for more than an hour and didn't quite come out as brown as we had hoped, but that's sometimes what happens with miniature appliances- the end product isn't as perfect as it could be. It still tasted great, so that's really all that matters.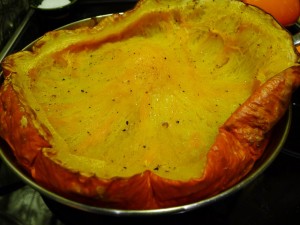 We let it cool and then scooped out A LOT of pumpkin.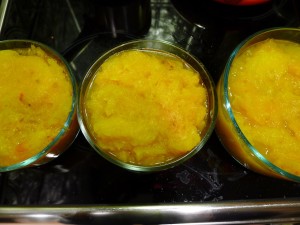 Sean then pureed it in the Vitamix, poured it into jars, and processed it to save it for a wintery day. It's truly wonderful to be married to a chef who likes to cook at home.