Chef Sean Smith is a fan of Martha Stewart's recipes because they are easily multiplied. That essentially means she nails the ingredient ratios so if you're making a double or triple batch of cookies, you can be confident that doubling or tripling her recipe will end up with something delicious. So, when I was tasked with making a pie for our clients, I went right to Martha.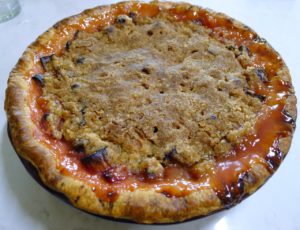 The recipe starts by suggesting you make this pie the day before you plan to serve it, which is exactly what I did. I suggest you make your pie crust first and keep it cold in the refrigerator. Make your crumble topping second and keep it cold in the fridge as well until you're ready to sprinkle it on top of the filling. Below you'll find three sections: dough, filling, and crumble topping.
Ingredients for the Pie Dough:
2.5 cups all-purpose flour
1 teaspoon sugar
1/2 teaspoon fine salt
2 cups cold butter, cut into small cubes
1/4 (or a little more if needed) ice water
The easiest way to make dough is to add the flour, sugar, salt, and butter to a food processor and give it a whirl. Then slowly add the ice water until it's dough. Finish by forming it into a ball, wrap it in parchment paper, and refrigerate until you're ready to use it.
Ingredients for the Pie Filling:
All- purpose flour, for dusting
1 3/4 pounds (approximately 6 cups) rhubarb with the ends trimmed and cut crosswise into 3/4 inch pieces
1 cup sugar
2 tablespoons cornstarch
Pinch of salt
Ingredients for Crumble:
3/4 cup flour
1/3 cup packed light brown sugar
3 tablespoons sugar
pinch of salt
6 tablespoons chilled butter
And now to make the pie! Here's my pie before baking, just for reference.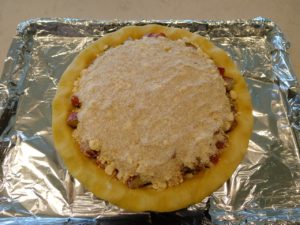 Place the pie dough on parchment paper and roll it out to fit in a 9 in pie pan. Fit the dough into the pan, trim/crimp your edges, and refrigerate for an hour.
Preheat oven to 400 with the rack at the lowest level.
Add the crumble ingredients to a bowl and mix until the butter is somewhat evenly distributed. Chill in the fridge until you reach step 5.
In a large bowl, toss the rhubarb with sugar, cornstarch, and salt.
Pour filling into the pie crust, distribute it evenly, and sprinkle the crumble topping on top.
Place pie pan on a foil-lined rimmed baking sheet. This is important as it will help clean up be a synch!
Place your pie in the oven and lower it to 375 degrees. Bake for approximately 1.5 hours and cool completely before serving.
I must admit- I've really started slacking at cooking since Sean and I met. He's such a talented chef and spent the last year cooking for us many nights each week, regardless of his work schedule. All of that changed since taking on his new role as Kitchen Manager at Zeal. He spent a month getting the place up and running and now, almost two months into his new job, is hardly ever at home, so I have stepped back into my role as an avid home cook. He deserves it, and it's fun for me, too.
As it's winter, I thought something hearty would be enjoyed for dinner. I'm calling this one a Veggie Shepherd's Pot Pie. It is pretty easy to prepare, but takes some time, so allow a few hours from start to finish.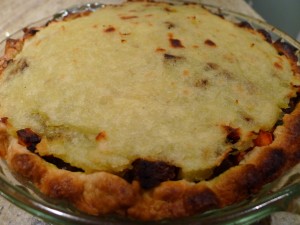 First, I made the pie crust by basically following THIS RECIPE but adjusting it for just one cup of flower. After making the dough, I let it sit in the fridge for a little over an hour to chill.
While the dough was chilling in the fridge, I started chopping a yellow onion, four or five stalks of celery, four rather large carrots, and a peeled garnet yam. I added these to a sauté pan with a little olive oil and let them slowly start to cook. Next, I chopped up two Smoked Apple Sage Sausages (vegan sausages, of course) made by Field Roast, an artisan grain meat company. Sean introduced me to this company and I've come to really enjoy some of their products. It's not typical fake meat trying to imitate meat and meat products. Field Roast makes a variety of sausages that are clearly not meat, yet are versatile and tasty additions that complete many of our vegetarian dishes here at home. And, the ingredient list on their sausages meets my high standards.
So, into the pan went the chopped sausage, a few splashes of homemade veggie broth, and I let this all cook on medium for thirty or forty minutes. Then I salted and peppered to taste, added a pinch of dried crumpled sage, a little parsley and thyme. I chopped a handful of kale and added it to the mix at the end and took my pan off the heat. It was now time to roll out my dough, make my bottom crust in a pie pan, and add the filling.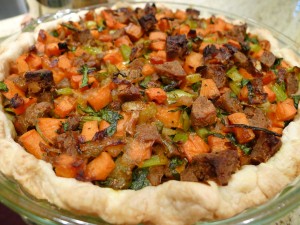 Don't forget to PREHEAT THE OVEN, by the way, to 350 degrees.
I boiled water and cooked a white Hannah yam while making the filling, but set it to the side for the first 15 minutes the pie was in the oven. When the yam was cool enough to touch, I mashed it and spread it over the pie (which I had briefly taken out of the oven, of course) and then let it bake until the top was starting to develop a crust and turn brown and the pie crust was golden and crispy (20 more minutes or so). The look on Sean's face when he returned home after another fifteen hour work day was all I needed to know I had really shown him how much I care. After all, we all know the way to a man's heart…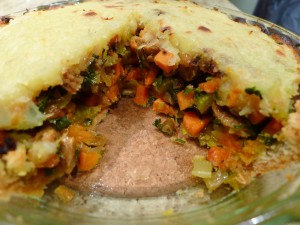 One slice of this was definitely not enough for either of us. I must admit- this was one of my best dishes in a long time.
I love making homemade apple pie for my family each Thanksgiving. It is very easy to do, so I sometimes think I should do it more often. But, let's be honest. There is a lot of fat in pie crust! I tend to stay away from pies even though I love them so…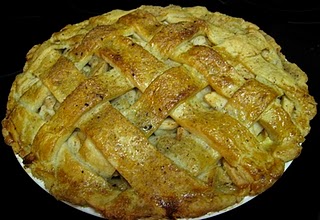 But, before we talk apple pie, first things first: Pie crust. I like to make it and then freeze it for a few hours before thawing it until it is pliable and ready to be rolled. I plan my pie crust around all of my pies, so I make enough crust to bake one apple and two pumpkin pies. That is reflected in this recipe:
3 and 1/4 cups all purpose flour
3.5 sticks chilled, unsalted butter, cut into smaller pieces
1/4 cup evaporated cane juice
a pinch of sea salt
1/3 cup iced water (ice cubes removed) mixed with 1/3 cup cold vodka
In your stand mixer, put the flour, butter, sugar, and salt. Mix on low speed until it gets crumbly and starts to integrate into a pea-shaped clump consistency. Slowly start to add the water/vodka mix, stirring as you add the moisture. Stop adding the liquid when it starts to look like dough. You might have extra liquid left over, and that's OK. I usually drink the rest! On the day before Thanksgiving, by the time I'm making pies, I can go for a good drink.
When the crust will stay together when handled and form a nice ball, divide it into 3 or 4 smaller balls. Wrap them in wax or parchment paper, and freeze them for a few hours. Let them sit at room temperature for 15-20 minutes before rolling them into thin circles. I like to roll my crust between to sheets or wax or parchment paper. If it gets too warm and mushy, put it back in the freezer for a few minutes to chill it before putting it a pie pan.
For my apple pie filling: I bought some local, upstate New York Macintosh apples (remember folks, I was making this pie in New Jersey, so New York apples were local to me). I would estimate that 12 or so apples were peeled and sliced. I got my mom and grandmother in on the peeling and slicing while I was doing other Thanksgiving tasks, so my memory is a little fuzzy on the number of apples. When they were all sliced into bite-sized chunks, I tossed them in 1/2-3/4 cup evaporated cane juice, a drizzle of maple syrup, and 2 TB of cinnamon. Then, you roast the apples at 450 for 20 minutes or so until they start to soften and juice.
Let this cool. In the meantime, crust has been made, frozen, thawed, rolled, placed in a pie pan, and possible re-placed in the freezer. Make sure the pie crust is cool and the apples are not hot before adding the apples to the pie pan.
I am no expert pie baker. I unfortunately missed the pies and desserts classes at The Culinary School of the Rockies this fall. Maybe next year. But, I did try my best at a woven top and it worked. I wove the strips of pie crust on a piece of parchment paper and then transferred them all at once to the pie. Then I crimped the edges, brushed the top with beaten egg, sprinkled it with Spiced Vanilla Bean Sugar from no where else but Savory Spice Shop, and started to bake it at 450 for 20 minutes.
After 20-30 minutes, lower the oven to 350, remove the pie, and tent the edges with foil to prevent them from burning. Then continue to bake until the top crust is nicely golden brown and you hear and see the apples boiling inside.
Let it cool enough so it won't burn your mouth, and then enjoy. I like to serve it with homemade maple whipped cream.