Edamame Salad
Edamame. It's not just a fun word to say… it's fun to eat. I got a big bag of edamame in my CSA share from
Ollin Farms
and was eager to eat the little green beans. I hadn't had edamame since they were in season last summer, which seems like a long time ago now!
First, I brought a large pot of water to a boil. Then, I added my edamame (maybe a pound?) in their shells and let them boil with a pinch of sea salt for 3-4 minutes. I fished them out of the water and rinsed them in cold water to stop them from cooking.
Now comes the fun part: shelling them. Ask for help here if you want to eat these within a reasonable amount of time.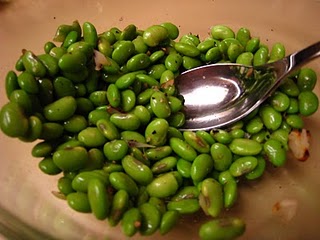 I dressed mine with sea salt, pepper, a drizzle of olive oil, and 3 cloves of garlic that I grilled, let cool, and coarsely chopped. Yum. The grilled garlic flavor really compliments the buttery flavor and texture of edamame. I'm definitely going to make this dish again.